Starbucks Races to the Bottom
Starbucks wants to start a "conversation" on race. That can't possibly end well.
by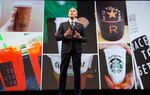 Giving up coffee for Lent has turned out to be more of a struggle than I expected, but Starbucks Chief Executive Officer Howard Schultz has given me another reason to stick with it: It means that none of his employees will try to engage me in a conversation about racial inequality. Or, even worse, about "the need for compassion, the need for empathy, the need for love towards others." That's the suggestion Schultz is urging on the poor clerks at Starbucks counters this week. And I thought I was grumpy not getting a cup.