view
Russia Rebounds, Despite Sanctions
Putin's Ukraine adventure frayed relations with the West, but it hasn't destroyed confidence in corporate Russia.
by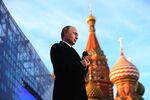 Sanctions meant to punish Russia for snatching Crimea from Ukraine one year ago were supposed to hurt Russian business. And they did. Russian stocks, bonds and commodities had the worst performance in 2014 of those in any emerging market.
That was then. Now the picture is changing, with investors starting to favor Russia in 2015. The ruble, which became the world's most volatile currency last year after President Vladimir Putin's land grab, is stabilizing. The swings in its value narrowed this year more than any of the other 30 most-traded currencies.

Investors in Russian government securities denominated in rubles have earned the equivalent of 7 cents on the dollar so far this year, as measured by the Bloomberg Russia Local Sovereign Bond Index. In contrast, anyone holding similar government debt in emerging markets across-the-board has lost 1.1 percent in 2015.
The picture is even rosier for Russia's corporate bondholders; they've had a 7.3 percent total return in 2015, leading the gains in the index for emerging market corporate bonds compiled by Bloomberg. And while shareholders in the global emerging market stocks measured by the MSCI Emerging Market Index gained 1.7 percent this year, the 50 Russian stocks in the Micex index are up 11.9 percent -- better than the Standard & Poor's 500 or any other North American market.
The ruble's relative value helps explain why there are some signs of confidence in Russia. Although the ruble remains the most volatile of the 31 most-traded currencies this year, its swings are narrowing. This is visible in implied volatility, a measure of traders' bets on how much the currency's value will change day-to-day. After surging in late 2014 amid the widening Ukraine crisis, the ruble now is fluctuating the way it did in 2009.

Business also appears to be on the rebound. Some 78 percent of the Russian companies in the Micex index showed greater annual sales growth than their global peers, even though the shares of these Russian companies lagged behind their international competitors, according to data compiled by Bloomberg. That's consistent with a two-year improvement in the relative value of Russian companies.
One possible reason for the growth? Sanctions. With foreign goods unavailable, Russians had to choose homegrown products and services.
For all the disruption caused by the sanctions, Russian companies represented in the Micex index are more profitable measured by Ebitda margins (earnings before taxes, depreciation and amortization) than the rest of the companies included in the global MSCI Emerging Market Index.
A number of Russian companies are outperforming their global peers. Magnit PJSC, which operates a chain of discount supermarkets with a market capitalization of $16 billion, is one worth noting. The retailer's one-year revenue growth was 31.66 percent, overwhelming the 0.87 percent increase in sales from its global competitors. Novatek OAO, a $22.8 billion independent producer of natural gas in western Siberia, is another. The company saw its sales increase 19.5 percent, compared with 0.76 percent from its global sector. And then there's Rosneft, a $41 billion international brand with production in western Siberia, Sakhalin, the North Caucasus and the Arctic, which reported an 18.26 percent annual sales growth when its international competitors disclosed a revenue increase of just 0.76 percent. By any conventional measure, the shares of these companies are cheap.

Are global investors optimistic about corporate Russia's continued resilience? It seems so. The shares outstanding of the largest U.S.-based exchange traded fund tracking Russian companies -- more than 90 percent of the companies in the ETF are Russian -- surged 5 percent so far this year. At the same time, an ETF that's a proxy for money flows into and out of Russian equity shows a 27 percent increase. Putin's Ukraine adventure has led to instability in the region and frayed relations with the West; what it hasn't destroyed is confidence in corporate Russia.
(With assistance from Shin Pei.)
(Updates description on chart of ruble's historical volatility.)
To contact the author on this story:
Matthew Winkler at mwinkler@bloomberg.net
To contact the editor on this story:
Jonathan I Landman at jlandman4@bloomberg.net
Before it's here, it's on the Bloomberg Terminal.
LEARN MORE