NFL Rules Changes Go Out of Bounds
Proposed changes to NFL rules reveal the state of mind of the league's teams.
by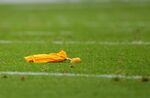 National Football League owners will meet next week in Phoenix and discuss, among other things, 23 proposed rule changes, 19 of which were submitted by individual teams. Many of them stand no chance of approval, but the bulk of them are aimed at improving the league's system of challenges and instant replays. At the very least, the proposals offer an interesting glimpse into the mindset of certain teams.