A Deal India's Farmers Can't Refuse
Give them title to their land -- and let them sell it.
by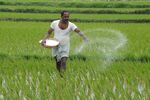 Indian Prime Minister Narendra Modi has a fight on his hands. A newly rejuvenated opposition has joined with populist crusader Anna Hazare -- the man who brought the previous government to its knees over the issue of corruption -- and is blocking proposed changes to a draconian land-acquisition law. Modi has few appetizing choices. He could keep the measures going by executive order for another six months (the first such ordinance expires on April 4). But few companies are likely to invest based on such flimsy reassurances.