'CSI: Buenos Aires' Gets More Sinister
Everyone has a theory -- and an agenda -- to explain the death of Argentine special prosecutor Alberto Nisman.
by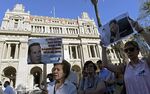 The Argentine economy is doubled over by debt. President Cristina Fernandez de Kirchner's approval ratings are south of Patagonia, and the country's decade-long fight with bondholders has just gotten worse.