U.K. Elections Are No Longer Just Class Wars
Conservatives and Labour are fighting the UK election on familiar ground, economic competence versus fairness and public service. Yet nothing they say seems to register.
by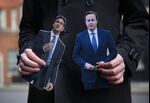 The campaign fight between the main Conservative and Labour parties ahead of elections on May 7 is being fought on very familiar ground: Economic competence for the Tories, versus fairness and a strong health service for Labour.