SEC Chair Wants Activist Fights to Be Nicer
Fake proxy fights are, for securities-law purposes, just as real as real proxy fights.
by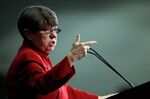 Among the more interesting ways that law gets made is that sometimes an important person will give a speech, and the speech contains law, and the job for lawyers is to figure out what the speech says. 1 So today Securities and Exchange Commission Chair Mary Jo White gave a speech at the Tulane Corporate Law Institute, the big annual M&A law party, with the grab-bag title "A Few Observations on Shareholders in 2015." There are, in fact, some observations here, for instance about the benefits of shareholder activism, though they tend to be studiously neutral. ("Activism leads to either increased or decreased long-term economic well-being," cool cool.) But my guess is that all the M&A lawyers and bankers didn't fly to New Orleans for observations; they want to know what the SEC is going to do about various activist fights. And White's speech offers a few clues. 2
One thing that happens a lot in activist fights is, the activist says mean things about company management, and then management says mean things about the activist, and they go back and forth for a while, getting progressively nastier. Another, related thing that frequently happens is, management feels like the mean things that the activist about it said aren't true, and vice versa, because each side tends to have a higher opinion of itself than the other side does. Unlike in most battles of wits, though, which can be won or lost only by adding more wit, here there is a potential legal remedy, because technically you aren't allowed to say things that aren't true in SEC filings. So sometimes aggrieved parties in activist battles go crying to the SEC, hoping that it will tell the other side to knock it off. 3 (Delightfully this is called "bedbugging.") This cannot be especially fun for the SEC: Most activists and companies, you know, have lawyers, so their criticisms of each other tend to stop short of making easily falsifiable factual claims. And obviously the parties care a lot more about all of this than the SEC does. 
Anyway here is Mary Jo White today:
Activists and companies should also pay special attention to Exchange Act Rule 14a-9 -- the prohibition against making material false and misleading statements or omissions in proxy solicitations -- as they make their cases for or against change in their fight letters and other communications under the federal proxy rules. While I appreciate the importance of allowing the parties to fully debate the issues in what may be adversarial situations, they should be careful not to make claims or accuse others of wrongdoing without an adequate factual foundation.
So is there new law there? I mean, really she's just reminding people that Rule 14a-9 exists. On the other hand, it's a little funny for the SEC chair to tell people to "pay special attention" to one rule. They should pay attention to all the rules! She's the head of the SEC, she should love all her rules equally. Does her emphasis on disclosure in proxy fights mean that the SEC will be taking a more active role, intervening more often in proxy fights when it thinks one side is stretching the truth? Or is it more like, since she's got all the proxy-fight lawyers in one room, it's a good opportunity to tell them to play nice together so that the SEC doesn't have to go around checking up on everyone's proxy materials? This later passage might support that conclusion:
Even though the SEC staff does not act as a "merits or behavior referee," parties should still take a hard look at their actions and rhetoric and consider whether they are engaged in a constructive dialogue and facilitating a constructive resolution. I recognize, of course, that highly sophisticated strategies have come to dominate proxy fights and takeover bids; I have been involved in them as a private sector lawyer. And it is not my intent to threaten the vibrancy of anyone's practice area. But I do think it is time to step away from gamesmanship and inflammatory rhetoric that can harm companies and shareholders alike.
Telling people to "take a hard look at their actions and rhetoric" sort of sounds like "because, good Lord, I don't want to." So maybe this is more a wish that everyone will get along than it is a threat of SEC enforcement.
But there's another, nerdier point in the activism section of her speech. It has to do with the pretend shareholder vote that Pershing Square tried to hold in its fight with Allergan over the proposed Valeant merger. This "shareholder referendum," which we talked about previously, and which was canceled soon after it was announced, was in part a clever trick to get around Allergan's poison pill. Allergan's poison pill applied to anyone with any "agreement, arrangement or understanding to act together for the purpose of acquiring, holding, voting or disposing of any securities of the Company," so it had the effect of deterring other big shareholders from talking to Pershing Square: If Pershing Square persuaded them to vote for the Valeant deal, would that trigger the poison pill and make their shares more or less worthless? Maybe, right? So the pill had the effect of making communication among shareholders difficult. This is true even in activist situations that don't involve mergers: Companies adopt poison pills not just to prevent takeovers, but also to prevent activists from teaming up with one another or with other big shareholders.
But those poison pills can't prohibit shareholders from voting, and the way you vote is by proxy, and so even the strictest poison pills have exceptions for consents given "in response to a public proxy or consent solicitation made pursuant to, and in accordance with, Section 14(a) of the Exchange Act by means of a solicitation statement filed on Schedule 14A." Pershing Square's clever idea was to create a fake proxy solicitation, albeit one that involved real proxy filings with the SEC. That way they could talk to other shareholders, and get the other shareholders on their side, without triggering the poison pill. But there was a risk here: Management could argue that a shareholder referendum is not a real proxy solicitation, so the SEC shouldn't accept filings about a referendum, so it's not an exception to the poison pill. 
Mary Jo White today addressed that argument:
Some questioned whether a shareholder has the ability to call a meeting of shareholders outside of a company's bylaw framework, hold a non-binding vote by way of a proxy solicitation, and file a purported proxy statement under the proxy rules. Specific questions were raised about whether communications relating to such a shareholder referendum should be allowed to be filed as soliciting materials under the Commission's proxy rules. The concern was that doing so could give the disputed materials a form of official imprimatur. All fair questions.
But I think this is a pretty solid endorsement of the referendum approach:
To fully effectuate that objective, the staff has a longstanding practice of accepting and looking at all filings, even if it is unclear whether the filing was required under our rules as a "solicitation." Whenever a filing is made, we expect it to fully comply with the applicable disclosure requirements, and filers assume potential liability under the federal securities laws. The staff's goal in such a situation is to ensure that the filing complies with the applicable rules and that shareholders are provided with complete and accurate material information. The alternative in this context would be for the referendum to go forward under the radar, without public disclosure, without SEC staff oversight, and without the protection of our rules.

Ultimately, the shareholder referendum I mentioned was abandoned and the hedge fund called a special meeting of the target company's shareholders pursuant to the company's bylaws. We do not know whether other activist shareholders will try the shareholder referendum approach in future campaigns. If they do, you can expect the SEC staff to perform its oversight role of ensuring that investors receive timely, complete and accurate disclosure.
You have to read quite a bit between the lines to get much meaning out of that, but it does sound like future "shareholder referendum" communications should be filed with the SEC, and treated like, more or less, real proxy fight materials. I guess that means that the SEC has to read them, and maybe even get involved in debates over the truth or falsity of proxy-fight materials, but at least it avoids getting involved in debates over whether the proxy fight itself is real or not. It can leave that to the parties to sort out.
This column does not necessarily reflect the opinion of Bloomberg View's editorial board or Bloomberg LP, its owners and investors.
Lawyers all know that this is a way that law can be made, but non-lawyers sometimes think that law has to be made in more, you know, law-y ways. So I will quote here a famous passage from Karl Llewellyn (via):

This doing of something about disputes, this doing it reasonably, is the business of law. And the people who have the doing in charge, whether they be judges or sheriffs or clerks or jailers or lawyers, are officials of the law. What these officials do about disputes is, to my mind, the law itself. 

This is called "legal realism." And while we're down here I'm going to give you a paragraph of Karl Llewellyn's Wikipedia bio because it's pretty nuts:

Llewellyn was studying abroad at the Sorbonne in Paris when World War I broke out in 1914. He was sympathetic to the German cause and traveled to Germany to enlist in the German army, but his refusal to renounce his American citizenship made him ineligible. He was allowed to fight with the 78th Prussian Infantry Regiment, and was injured at the First Battle of Ypres. For his actions, he was promoted to sergeant and decorated with the Iron Cross, 2nd class. After spending ten weeks in a German hospital at Nürtingen, and having his petition to enlist without swearing allegiance to Germany turned down, Llewellyn returned to the United States and to his studies at Yale in March 1915. After the United States entered the war, Llewellyn attempted to enlist in the United States Army, but was rejected because he had fought on the German side.

You can also parse it for clues on two other subjects: Whether a company can exclude a Rule 14a-8 shareholder proposal that conflicts with the company's own proposal, and whether a company can require shareholders who sue it and lose to bear the company's legal costs. (Ronald Barusch takes her comments on that as "a veiled threat to fee shifting by-laws.")

Sometimes it's not even the parties, as in the famous Gallagher & Grundfest fight against Harvard's Shareholder Rights Project, in which a sitting SEC commissioner accused Harvard of making misleading disclosures in proxy proposals. And frequently the parties address their securities-law complaints not just to the SEC but also to the courts, as in Allergan's and Pershing Square/Valeant's dueling securities fraud lawsuits.
To contact the author on this story:
Matt Levine at mlevine51@bloomberg.net
To contact the editor on this story:
Zara Kessler at zkessler@bloomberg.net
Before it's here, it's on the Bloomberg Terminal.
LEARN MORE