Modi's Coal Conundrum
Tinkering around the edges of reform has only led to more problems.
by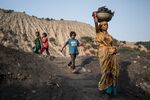 Even as Indian Prime Minister Narendra Modi gears up to try and push through his biggest reform yet, easing the process for acquiring land for industrial development, questions have arisen about one of his earliest successes. Modi won plaudits for swiftly responding to a Supreme Court decision invalidating the allocation of coal blocks to private companies. In less than five months, the government had successfully redistributed 19 licenses by auction; another 14 went on the block last week. Supplies of coal -- the main power source for energy-starved India -- appeared set to continue flowing.