Oregon's Example for Voters Everywhere
Oregon's new automatic voter registration system points to a simple, inexpensive and promising way to increase the voter rolls.
by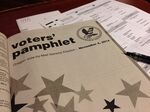 This week, Oregon became the first state to adopt automatic voter registration. If you're an Oregonian over 18, and if you've dealt with the state's Driver and Motor Vehicles Division since 2013, you'll get a notice in the mail letting you know you're registered to vote.