Challenging the Almighty Supreme Court
The Supreme Court has degenerated from the unanimity of the desegregation battle to the divided era when justices snipe at one another in footnotes.
by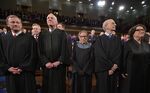 Maybe everybody's being too hard on William Baude. In an op-ed article in Tuesday's New York Times, Baude proposed that should the U.S. Supreme Court strike down the Obama administration's interpretation of a key provision of the Affordable Care Act, the president might follow the example of Abraham Lincoln in refusing to apply the ruling to anyone other than the plaintiffs in the case.