The Great Chinese Car Casino
Global automakers can hardly afford to protest the latest cost of doing business in the world's most important car market.
by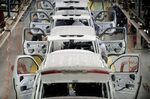 For the past several years, China's central government has been building World Consumer Rights Day into something of a national holiday. Every year, the country's leaders focus the state-controlled media on consumer rip-offs and corruption alike, lambasting major firms and investigating high-ranking party officials. This year's crackdown again focused heavily on foreign automakers operating in China, with CCTV accusing Volkswagen, Tata Motors, Daimler and Nissan of selling defective vehicles and overcharging consumers.