view
Iraq's Shiites Saved the Village to Destroy It
A report from Human Rights Watch about what befell one village late last summer provides more reason to worry about Iraq's future.
by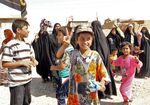 I wrote on Monday about fears that the Shiite militias now besieging Tikrit might take revenge on the Sunni residents once Islamic State is driven out. Wednesday's report from Human Rights Watch about what befell the residents of Amerli late last summer provides more reason to worry.
Amerli, a small town in northeastern Iraq, was attacked in June by Islamic State fighters. With the aid of Shiite militias and airstrikes from the U.S.-led coalition, Iraqi government forces retook the town at the beginning of September. The victory was hailed as a triumph for the Obama administration's policy of trying to get competing forces to work together on the ground to defeat Islamic State.
Matters turned out not to be so simple. The Human Rights Watch report is blunt:
Following the operations to end the Amerli siege, pro-government militias and volunteer fighters as well as Iraqi security forces raided Sunni villages and neighborhoods around Amerli in Salah al-Din and Kirkuk provinces. Many were villages that ISIS had passed through and in some cases used as bases for their attack on Amerli. During the raids, militiamen, volunteer fighters and Iraqi security forces looted possessions of civilians who fled fighting during the onslaught on Amerli; burned homes and businesses of the villages' Sunni residents; and used explosives and heavy equipment to destroy individual buildings or entire villages. Human Rights Watch documented the abduction of 11 men in the course of the government's operation, but local residents said many other men of fighting age had gone missing.
The Kurdish militia, known as Peshmerga, also participated in the assault that routed the Islamic State fighters. According to the report, members of the Peshmerga denied taking part in any atrocities, but said that they witnessed the results:
Peshmerga officers told Human Rights Watch they saw 47 villages in which militias had destroyed and ransacked homes, businesses, mosques, and public buildings. Residents told Human Rights Watch that the militias included the Badr Brigades, Asa'ib Ahl al-Haqq, Kita'ib Hezbollah, and Saraya Tala'a al-Khorasani, and that they destroyed numerous villages between the towns of al-Khales, in southern Diyala province, and Amerli, about 50 kilometers to the north in Salah al-Din province.
Human Rights Watch found "over 3,800 destroyed buildings in 30 towns and villages, including 2,600 buildings likely destroyed by fire and a further 1,200 buildings likely demolished with heavy machinery and the uncontrolled detonation of high explosives." Might all this devastation have been done by Islamic State? Or could it be the result of the battle itself? Evidently not. Satellite imagery showed that this destruction took place after Islamic State fled the area, and "was distinct from damages resulting from air strikes and heavy artillery and mortar fire prior to ISIS's retreat from Amerli." This and other evidence led Human Rights Watch to conclude "that militias engaged in deliberate and wanton destruction of civilian property after the retreat of ISIS and the end of fighting in the area."
Human Rights Watch ends its report by recommending that Iraqi Prime Minister Haider al-Abadi disband the militias, or at minimum that the U.S. and its allies "should condition military assistance to Iraq on the government's showing that it is able to end the very serious crimes perpetrated by militias." But this is unlikely to happen. Although there is no justification for the militias' alleged commission of war crimes, the Iraqi government doesn't have many other options. Few observers believe that the Iraqi armed forces are capable of taking on Islamic State on their own. And there is no plausible scenario in which the West will contribute more than airstrikes and supplies.
The only way that Baghdad can proceed without the militias is to invite even more help from Iran, which has become the dominant military power in the region. No doubt Tehran would agree. As I've previously noted, Iran's leaders are already talking about establishing an empire that includes Iraq.
The question is whether Iraq can manage to accept more aid from Iran without becoming a vassal nation. As Abadi himself has pointed out, Iran has its own strategic reasons for doing all it can to defeat Islamic State.
The Iraqi prime minister is dancing a delicate minuet as he tries to juggle all the various forces inside and outside his country that have an interest in the outcome. In the midst of war, he can't really afford to give up the militias, and the U.S. can't afford to try to make him. But Abadi would do well to find a way to rein them in. If what happened after the liberation of Amerli is duplicated on a larger scale in Tikrit, there will be enormous pressure to disband the fragile domestic alliance that is securing Iraq's victories.
To contact the author on this story:
Stephen L Carter at scarter01@bloomberg.net
To contact the editor on this story:
Stacey Shick at sshick@bloomberg.net
Before it's here, it's on the Bloomberg Terminal.
LEARN MORE