Gunmen Strike at Tunisia's Idealism
The massacre represents a loss of innocence for the one country that has emerged from the Arab Spring as a constitutional democracy.
by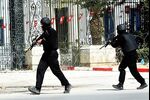 When the front gate to the Tunisian national parliament was locked, during my visits from 2012 to 2014, my research associate and I discovered we could walk around to the back gate, which was always open so the public could access the national museum. Eventually we realized we could even park there, no questions asked.