Fewer Hockey Players Means Better Overtime
The details will need to be worked out, but it might make sense for the league to adopt a full five-minute, three-on-three overtime.
by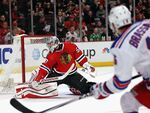 The National Hockey League tried to add some pizazz to the game in 2005 when it decided games still tied after one overtime period would be decided by shootouts. And while commissioner Gary Bettman insists the fans love one-on-one contests, the league's general managers seem to have soured on them.