view
Attention, U.K. Shoppers: Germany's Winning
The war of attrition in the U.K. supermarket industry will continue until one of the middle players dies.
by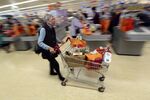 Near where I live in north London, a Tesco supermarket faces a Waitrose branch across a busy main road. If I'm buying fresh meat or vegetables to make dinner, I brave the traffic and cross to the more upmarket Waitrose; it's always packed. If I've run out of tinned chopped tomatoes or kidney beans, I lazily make do with Tesco; there's rarely much of a line at the checkouts, even at rush hour.
There's a three-way split developing in the U.K. supermarket industry. Discerning (ahem) shoppers like myself seem to favor Waitrose; those seeking lower prices are driving up market share at Aldi and Lidl, two German discount chains. Lost in the middle are Tesco, J Sainsbury, WM Morrison and Walmart Inc.'s Asda chain. The most recent market share figures reflect a trend that's been going on for months:

While those changes don't look too dramatic in a single month, consider that Aldi's market share has swollen to 5 percent from 3.7 percent since September 2013, while Lidl has grown to 3.5 percent from 3 percent in the same period, chipping away at the incumbents. And it's not just market share: Sainsbury reported its fifth consecutive quarter of shrinking sales yesterday, a 1.9 percent contraction that was better than analysts had expected but still suggests the U.K.'s publicly traded grocers continue to struggle:

The price war that's engulfed the U.K. grocery market shows no signs of abating. Food and drink costs fell 2.5 percent in January, dropping for a seventh consecutive month, according to the Office of National Statistics:
Shrinking market shares and falling prices are a deadly combination. While Sainsbury said yesterday it's confident it can outpace its rivals as it sees "green shoots" of recovery, investors don't seem so sure:

It's not easy to work out which is the weakest horse in the glue factory. Of the 25 analysts who cover Sainsbury, though, only five advise it as a "buy," with 10 "holds" and 10 "sells." Morrison is similarly out of favor with just seven "buys" versus 11 "sells." Tesco, by contrast, is recommended to investors by eight analysts and shunned by five.
The usual remedy in an industry where the middle ground is disappearing would be consolidation. The supermarket chains, however, are trying to shed assets and staff, rather than bulking up. So unless some other bidder from, say, the world of private equity decides it can squeeze enough costs or sell enough real-estate holdings to make a purchase of one of the three attractive, the war of attrition is likely to continue -- until one of the middling players dies. 
To contact the author on this story:
Mark Gilbert at magilbert@bloomberg.net
To contact the editor on this story:
Paula Dwyer at pdwyer11@bloomberg.net
Before it's here, it's on the Bloomberg Terminal.
LEARN MORE