'Blockupy' Protests at ECB Are Absurd
Leftist protesters should have been burning tires in front of the Bundesbank, not the ECB.
by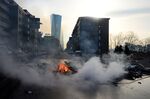 Frankfurt police anticipated the anti-capitalist Blockupy movement to protest Wednesday's opening of the European Central Bank's $1.4 billion skyscraper, but they got more than they expected: With garbage, cars and tires burning all over the place, the German financial capital looked for a moment like Kiev during last year's revolution. The Frankfurt protesters, however, were barking up the wrong tree: The ECB is, for now, the leftists' best friend.
Some 550 people have been arrested, and 80 police have been injured. #Blockupy has been trending on Twitter throughout Germany. Deutsche Welle journalist Laura Schneider tweeted:
But what was this revolution supposed to be about? Blockupy -- which includes the German parliamentary party Die Linke, the big labor union Verdi, the Greek ruling party Syriza and a number of lesser-known groups -- said it was in favor of democracy and against austerity:
If the demonstrators -- and rioters -- in the streets of Frankfurt today actually meant these slogans, they were seriously deluded. The ECB is the most democratically governed central bank in the world, and it has nothing to do with austerity. 
It's not just that the 45-story ECB office tower is far from austere, plagued as it was by unfair tender scandals and cost overruns. The euro area's central bank, with its huge quantitative easing program, is now the world's biggest money printer and government bond buyer, contributing more to the demise of fiscal austerity in Europe than any single government, including the financially squeezed, powerless one in Greece.
By continuing to fund Greek banks, in fact, the ECB props up Syriza and prevents a total financial meltdown in Greece. The central bank is not yet buying Greek bonds as part of its QE program, but it will probably start to, as soon as Athens repays previous bonds that Greek banks have unloaded on the ECB. So far, according to ECB President Mario Draghi, the central bank has lent Greece the equivalent of 68 percent of its economic output.
Throughout Europe, the ECB is doing all it can to enable governments to spend more and companies to profit from euro devaluation. It's hard to imagine how it could be even more lax. "As an EU institution that has played a central role throughout the crisis, the ECB has become a focal point for those frustrated with this situation," Dragi said at the opening of the new office. "This may not be a fair charge -- our action has been aimed precisely at cushioning the shocks suffered by the economy."
A more meaningful place for the leftist protesters to burn tires and cars would be outside the Bundesbank, whose president Jens Weidmann steadfastly opposed QE, or the German Finance Ministry, whose head Wolfgang Schaeuble has described QE as "not the solution, rather the cause" of economic problems. Weidmann and Schaeuble didn't get their way because they were democratically outvoted by other European central bankers on the ECB governing board. 
"The alliance's chorus of 'Shame on you, ECB' is as bizarre as the scenes playing out in Ostend," Tim Bartz commented in Manager Magazin, referring to the neighborhood in Frankfurt where the new ECB building stands. "That the euro area still exists and Greece hasn't quite fallen to the level of a third world country is only thanks to ECB and Draghi."
To use a line from an old song, the Blockupy protesters are so far left they've been left behind. Austerity is no longer a popular buzzword among European politicians and policy makers. Draghi didn't use it in his speech today, but instead spoke of reconciling "those who feel left out, including many of the protesters gathered in Frankfurt this week." 
The European left should stop banging on an open door. In countries where socialist or even far-left parties win elections or take part in government, they should instead work to prove that the flood of cheap money emanating from the ECB can really help reduce unemployment and strengthen social safety nets. Getting arrested for trying to beat up cops and firefighters in a quiet German city hardly advances that goal. 
This column does not necessarily reflect the opinion of Bloomberg View's editorial board or Bloomberg LP, its owners and investors.