Modi's Biggest Problem May Be the Banks
Unless they're brought back to health, growth won't revive.
by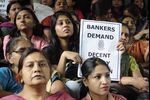 In New Delhi this week, IMF Managing Director Christine Lagarde joined the chorus of voices pressing India's government to tackle ambitious reforms to land and labor markets. Prime Minister Narendra Modi has so far stopped shy of such big-bang measures, whether because he doesn't think they're necessary to revive growth or because they're politically impossible. But there's one area where the government is going to have to think more daringly if any of its other efforts are to bear fruit: India's ailing banking sector.
On the surface, Indian banks don't look so bad off. The ratio of non-performing loans seems reasonably low at 4 percent -- around the same level as France and significantly lower than crisis-stricken Greece (32 percent) and Ireland (25 percent). The banking system, too, is dominated by state-owned banks, who account for 70 percent of all outstanding loans. Fortunately, those are backed by sovereign guarantee.
Unlike Europe, though, India's goal isn't to avoid a banking crisis -- it's to achieve double-digit growth. And for that, banks need to feel confident enough to lend. Clearly they don't: Despite two rounds of rate cuts this year, 43 out of 47 major banks including the giant State Bank of India have not cut interest rates. According to central bank data, banks' profitability in March 2014 was at its lowest since 2007. In the 12 months since then, the number of bad loans at the biggest state-owned banks (with the exception of SBI) has only grown. If one counts restructured assets as well -- without a modern bankruptcy law, restructured loans usually go unpaid -- the ratio of non-performing loans climbs to a more worrying 10 percent, about the same as Portugal (10.8 percent) and Spain (9.38 percent).
In the medium term, the only way to restore banks' health is through a significant infusion of capital. By the central bank's own estimate, India's state-owned banks need at least $38 billion to meet the Basel III standards for capital adequacy.
The government simply doesn't have that kind of money available, given the need to spend on infrastructure while also reducing the fiscal deficit sharply over the next three years. Nearly $10 billion was pumped into state-owned banks between 2011 and 2014. By contrast, Modi's recently released budget set aside only an additional $1.2 billion for nine key banks, down from $2 billion last year.
The only way to generate the necessary capital is for the government to sell off or dilute its stakes in state-owned banks. This can't be done in piecemeal fashion. Modi's government has resisted lowering its stake below 52 percent in any individual bank. At best divestment on that scale could yield $14 billion in funds -- far short of what's needed to recapitalize the sector.
Sooner or later, the government needs to consider accepting minority stakes in state lenders, or selling them outright to private investors, including foreign banks. This would both generate much-needed cash and help address a major cause of bad loans: political interference and pressure that leads to bad lending decisions. In the most egregious recent example, a consortium of 13 private and state banks led by SBI continued to lend money to Kingfisher Airlines for six years despite the fact the airline never registered a profit. Instead of cutting their losses, the consortium converted a sixth of their debt to equity by paying an outlandish 61 percent premium over the prevailing share price. The airline -- owned by Vijay Mallya, a powerful billionaire and member of Parliament -- folded shortly thereafter.
Such cases should render the case for privatization fairly easy to make. Unfortunately, resistance remains strong. Since the global financial crisis, the dominant narrative in India's polity has been that India's conservative approach to the financial sector served the country well. Deep suspicions about the motives and practices of private bankers are deeply entrenched. Also, state-owned banks have powerful labor unions which resist privatization strongly.
There are other measures the government could take that would stop short of privatization yet cut down on political interference. Currently, state banks are essentially run like a bureaucracy; employees win spots through competitive exams and usually spend their entire working life in the same institution. Salaries are heavily regulated, even at the top levels. The head of SBI, India's largest bank, earns one-tenth the compensation package of her private-sector counterparts.
The ranks of management could be professionalized and paid accordingly. Boards, too, should be given greater autonomy. Rather than having the Ministry of Finance select members based on political patronage, they could be chosen by an independent panel of experts who would operate at arm's length from the government. If the government follows through on its pledge to introduce a new bankruptcy law, companies would have less leverage to bully banks into "restructuring" loans continuously.
Revived growth would help ease the stress on the banking sector, of course. But such an uptick is unlikely until the banks are fixed. Good arguments can be made for Modi to move slowly on other fronts -- just not this one.
This column does not necessarily reflect the opinion of Bloomberg View's editorial board or Bloomberg LP, its owners and investors.