Jeff Immelt, Reluctant Capital Allocator
Fourteen years of shareholder letters reveal a CEO who doesn't love selling off parts of his company.
by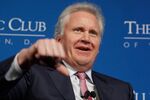 It was near the beginning of General Electric's 2010 Letter to Shareowners that it finally hit me -- Jeff Immelt must really hate selling off parts of GE. "We simplified the GE portfolio," the company's chief executive officer wrote. He went on:
We sold our Security business, completed the joint venture of NBCU with Comcast and sold some non-core assets in GE Capital. These moves generated substantial cash for GE. They give us significant financial flexibility in the global economic recovery.
That was the first mention of the security business since the 2005 letter (here as elsewhere, the actual annual report and letter came out a few months into the following year), when Immelt said it would profit from future Olympic Games in Turin, Beijing, Vancouver and London. As for NBC Universal, I couldn't help but remember this passage from three years earlier:
Should we sell NBCU? The answer is no! I just don't see it happening … not before the Beijing 2008 Olympic Games … not after the Olympic Games. It doesn't make sense.
Yes, circumstances change. Selling NBC Universal might have been a bad idea in 2007 and a good one in 2010. The security business, which GE dove into after the Sept. 11, 2001 terrorist attacks, may have been a reasonable bet that happened not to pay off. What struck me upon reading the above passage, though, was what a poor job Immelt had done of preparing me -- the reader of his shareholder letters -- for these decisions. It felt like GE had backed into them.
With GE's 2014 annual report and shareholder letter out yesterday, I decided to spend the morning going through the full Immelt oeuvre. Together the letters give a picture of Immelt as a peppy cheerleader, a capable manager, an at-times inspirational leader and even, on occasion, a self-deprecating mensch. He also comes across, though, as a painfully reluctant capital allocator -- at least when allocating capital means selling businesses that he cares about.
It's that combination, I think, that explains why Immelt's tenure has been so disappointing to shareholders and yet he has held on for so long. When Immelt wrote his first shareholder letter in early 2002, he described his company as "a diverse portfolio of leading businesses." Now it's a "focused infrastructure leader." But there was little hint of such a shift in the first six or seven of Immelt's letters; it seems to have been forced on him by the financial crisis. With the exception of the sale of GE's insurance businesses early on and the shrinking of GE Capital in recent years, the company's big divestments tend to come upon a serial reader of the company's shareholder letters as surprises. ("X is a great business … X had a tough year, but we know how to turn it around … Now that we've sold X, we have more money to invest in Y.") There is no apparent grand plan, or at least hasn't been until recently.
And yet…GE really is a leader in aircraft engines, railroad locomotives, power-plant turbines, medical-imaging equipment and several other industries. Its reputation for innovation and operational excellence is intact. It is seemingly a very well-run company. So give its CEO a C (or D) for capital allocation, and an A for management.
The idea that a CEO's main job might be that of capital allocation stems in part from the success of Warren Buffett, who has described his approach at Berkshire Hathaway as being a very patient but unsentimental buyer and seller of businesses. Will Thorndike's influential 2012 book "The Outsiders" made the case that Buffett and other capital allocators such as Henry Singleton and John Malone had accomplished far more for their shareholders than Immelt's legendary predecessor, Jack Welch.
It's interesting to think what a pure capital allocator would have done at GE. One suspects that the company would be even more dramatically changed and probably a lot smaller than the one Immelt now runs. It would presumably have generated higher shareholder returns during the past 14 years. But would it be better? Depends what you mean by better. GE is a thriving company that employs 305,000 people, makes hugely important products, has a strong balance sheet and has maintained a reputation for reliability and innovation in three centuries. And yes, it has also been a pretty terrible stock to own during the past 15 years -- a reality that Immelt doesn't avoid in his annual letters.
The early letters contain a lot of apologies and complaints about poor stock performance, while the 2008 letter (dated Feb. 6, 2009, just a few weeks before the post-crisis stock-market bottom) exhorts, "If you are a prospective investor, let me say, now is the time to invest in GE!" That was actually good advice -- GE's total return since then has been 186 percent, a bit higher than the Standard & Poor's 500 Index. In the latest letter, though, it's back to apologizing and complaining: "We are on track for our financial pivot, but despite our work, total shareholder return declined 7%, trailing the S&P 500."
Immelt has also, over the years, made some interesting shifts in how he addresses his letters. Welch had written "To Our Share Owners" for years before changing that in the 1997 to "To Our Share Owners and Employees," in 1998 to "To Our Share Owners, Employees and Customers" and in 1999 to "To Our Share Owners, Customers and Employees." Immelt's word choice has gone like this: 
2001: To Our Share Owners, Customers and Employees
2002: Dear Stakeholders
2003-2004: Dear Fellow Stakeholders
2005: To All Our Stakeholders
2006-2007: To Our Investors
2008-2009: Dear Fellow Owners
2010-2014: Letter to Shareowners
Maybe it's time to resurrect "To Our Share Owners, Customers and Employees." Because two out of those three might actually be perfectly happy with the Immelt years.
This column does not necessarily reflect the opinion of Bloomberg View's editorial board or Bloomberg LP, its owners and investors.
To contact the author on this story:
Justin Fox at justinfox@bloomberg.net
To contact the editor on this story:
James Greiff at jgreiff@bloomberg.net
Before it's here, it's on the Bloomberg Terminal.
LEARN MORE