Young Players Walk Away, Football Moves On
Borland stands out because his retirement came as a preemptive strike.
by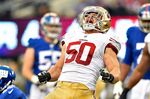 After a promising rookie season, San Francisco 49ers linebacker Chris Borland is retiring from the NFL at age 24, part of a growing trend this offseason of players quitting football due to health and safety concerns.
Borland joins Jake Locker, Jason Worilds, Maurice Jones-Drew and Patrick Willis, all of whom recently retired relatively young. Worilds announced he going to devote his time to religion; there were similar rumors about the 30-year-old Willis, but in his retirement press conference, the seven-time Pro Bowler asserted, "It's my health first." After winning a Super Bowl with the Seattle Seahawks last season, wide receiver Sidney Rice retired at 27: "I wanted to be able to function," Rice told CBS News.
As Grantland's Bill Barnwell notes, however, Borland stands out because his retirement came as a preemptive strike. He's leaving a ton of money from his rookie contract and signing bonus on the table, and he doesn't have a long history of concussions. Rather, for Borland, the risks of continuing to play football far outweigh the financial benefits: "For me, it's wanting to be proactive."
It's unhelpful and hyperbolic to wonder whether Borland's retirement signals "the beginning of the end for the NFL" -- of course it doesn't. The NFL is an unstoppable machine with deep emotional roots in American culture. It also makes piles of money. Neither labor strife nor health concerns nor a crisis of violence have had any measurable effect on the league's bottom line.
It's even more unhelpful to try to judge Borland's decision solely on the basis of money:
Much has been made about the growing number of parents who don't want their kids to play youth football because of concussion concerns. An Associated Press-GfK poll in August found that 44 percent of parents weren't comfortable with their kids playing the game. A more recent survey by NBC News/Wall Street Journal had more favorable results for the sport: 60 percent would support their children playing football, while 37 percent would encourage them to pursue an alternative.
But perhaps most telling was a Bloomberg Politics poll conducted in December, which found that 62 percent of college-educated parents didn't want their children playing football. Moreover, 62 percent of parents making more than $100,000 a year agreed.
As Will Leitch wrote then, this is why football will never die. Claims about the NFL's death knell largely stem from the rich and the educated who wouldn't put their children at risk in youth football. But as Leitch put it, just because the wealthy don't want their kids to play, "that doesn't mean they don't want someone else's kids to play." Rather than signaling the end of the sport, concussion concerns signal the continued demographic shift toward players for whom football offers hope of a college scholarship and a potential NFL path from poverty. "Football will have a perpetual renewable recruitment resource in the poor," Leitch wrote.
This view is supported by legendary sports agent Leigh Steinberg, the inspiration for the film "Jerry Maguire." Following Borland's announcement, the San Jose Mercury News's Mark Purdy reposted a column from January with this prediction: 
The response, Steinberg says, will be that those parents in upper- and middle-class homes will steer their kids toward less injury-prone sports. Ultimately, the pool of football players will be less diverse and full of more desperation. That won't be healthy for anyone, on several levels. And it could seriously harm the game's public appeal.
Steinberg terms it "the existential threat to football." A sport that is revered among the elite will become wholeheartedly blue-collar, a factory for players who have no other choice.
It's troubling yet telling that Pro Football Talk's Mike Florio's main takeaway from Borland's retirement is the effect it will have on scouts; Florio says they must now add "determining whether a player may decide to walk away from the game prematurely" to their list of evaluating factors: "Borland's decision raises the stakes for teams intent on finding players who have a high level of devotion to the sport." 
Of course, complete financial dependence on football would trump any level of "devotion to the sport" in keeping a player tied to the game, no matter the health risks. As Leitch writes in his latest column, "Florio is saying that the only real response the NFL and those who work inside it can have to someone like Borland making the rational, self-preserving decision he made is to say, we need to look exclusively for people incapable of making rational, self-preserving decisions." Basically, it's the football equivalent of predatory lending.
Borland made what he thinks is the right decision for himself and his family, and that's where discussion of his individual case should end. But he remains an outlier among football players, who will increasingly see their financial situations used as leverage in decisions about their own health.
This column does not necessarily reflect the opinion of Bloomberg View's editorial board or Bloomberg LP, its owners and investors.