Billionaires Alter 2016 Playing Field
Jeb Bush will likely have a big money lead. Unless some billionaire decides otherwise.
by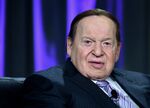 Jeb Bush is trying to lock in a top spot in the Republican presidential field by banking $100 million by the end of this month, a financial "shock-and-awe" strategy that helped his brother clear candidates from the field in the 2000 Republican presidential primary. In recent elections, however, dominating the early money hasn't been a sure route to the nomination.
In 2004, Howard Dean rode the Democratic Party's antiwar sentiment to become the early fundraising giant. John Kerry, though, became the Democratic nominee. In 2008, Mitt Romney cruised to victory in the Republican money race. John McCain, after his campaign went broke, captured the Republican nomination. In 2008, Hillary Clinton started off stronger than Barack Obama, but Obama soon eclipsed her in both money and votes.
In 2012, Romney won both the money race and the nomination on the Republican side. Yet Romney's struggle to clinch the nomination owed much to the staying power of two candidates -- Newt Gingrich and Rick Santorum -- whose longshot campaigns were kept afloat by large donations from wealthy individuals. Sheldon Adelson, a Las Vegas casino billionaire, and his family alone sustained the candidacy of Gingrich for a month, contributing $20 million to a super-PAC, Winning Our Future, that enabled Gingrich to keep campaigning. Investor Foster Friess kept Rick Santorum's campaign going for weeks with donations to a super-PAC supporting the former Pennsylvania Senator.
The competition for big-dollar contributors is well under way. A committee backing Wisconsin Governor Scott Walker has enlisted the support of billionaire Kenneth Griffin, founder of Citadel Investment Group; Doug Manchester, owner of the San Diego Union Tribune; and Marc Goldman, who gave nearly $90,000 to a pro-Israel super-PAC in 2012. Florida Senator Marco Rubio's allies have similarly been lining up wealthy backers, including Norman Braman, the billionaire former owner of the Philadelphia Eagles.
Candidates still assemble campaign finance teams to attract donations, but a single eager billionaire can surpass the contributions of thousands of typical donors. As a result, rivals don't have to match the full scope of the frontrunner's operations to remain within striking distance.
Asked on FOX News last week about the money chase, Rubio said his goal is to raise about $50 million before next January's Iowa caucuses. "There's a threshold that you must meet to be a credible candidate, because it does cost money to communicate your message to voters," Rubio said.
In addition to pursuing big donors, Walker may have a small-donor advantage. During his 2012 gubernatorial recall election, he collected 170,000 donations under $200. Kentucky Senator Rand Paul also may have staying power with small donors. He is expected to adapt the "money-bomb" tactic his father, former Texas Representative Ron Paul, used to sustain his presidential bids in 2008 and 2012. Paul periodically announced one-day fundraising goals to supporters, who lit up his campaign website, mostly with small donations.
Of course, Bush is seeking to raise a prohibitively large war chest for one reason: because he can. Any of his rivals would do the same given the opportunity. But the vagaries of billionaires and the Internet make it possible for any given candidate to stay in the race. South Carolina Senator Lindsey Graham is not considered a top candidate but he said he would have the funds to compete. In the past, such a statement would be tested against campaign finance disclosures. Now, a super-PAC or a friendly billionaire could be decisive.
This column does not necessarily reflect the opinion of Bloomberg View's editorial board or Bloomberg LP, its owners and investors.