Netanyahu Can Only Blame Himself
Even if Bibi wins, the electorate has shifted its priorities away from security.
by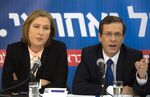 Israelis never understood why Prime Minister Benjamin Netanyahu broke up his coalition in December 2014 and called Tuesday's parliamentary elections. One thing, though, did seem clear -- he was clearly going to win again.