Can GrubHub Go the Last Mile?
How food delivery services are trying to win hearts, stomachs, and wallets.
by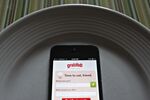 Only a few years ago, tracking tools weren't really a part of the food delivery experience. You typed in your order -- or, if you were really old you called the restaurant -- and at some point food showed up. You didn't always know how long it would take and, depending on your hunger level, you didn't really care. The most important thing was that eventually you'd have pizza, hot and delicious, without having to put on shoes.