Asness Should Manage Money, Not the Planet
Cliff Asness's paper on climate change makes sense only if you forget about physics.
by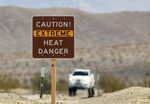 Hedge-fund manager Cliff Asness, co-founder of AQR Capital Management, has waded into the climate-change debate by circulating a draft paper suggesting that the phenomenon might not be as serious as scientists say. His reasoning makes sense only if you ignore how physics actually works.