Michael Graves Brought Special to the Everyday
Michael Graves, who died Thursday at 80, proved that status isn't the only reason people will pay more for designer products.
by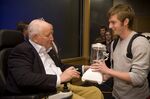 Michael Graves, who died Thursday at 80, proved that status isn't the only reason people will pay more for designer products.
In the 1980s, Graves was known to cognoscenti as the postmodern architect and designer who brought colorful facades to serious buildings and put a little bird on the whistle of Alessi tea kettles. But even in his heyday, Graves was hardly a household name.
By 1999, when Target introduced its line of Michael Graves housewares, he was officially out of style. "Today, he is regarded by many as a stale trend: yesterday's bag. And in these fast-paced times, a stale trend is virtually ancient history," pronounced New York Times architecture critic Herbert Muschamp. In an interview with design writer Phil Patton, Reed Kroloff, then editor-in-chief of Architecture magazine, declared Graves "at the cutting edge no longer."
When Target gambled on Graves, it wasn't buying a celebrity brand like that of Martha Stewart, who had a high-profile line of products at rival Kmart. To Target shoppers, Graves was no more a real person than Betty Crocker. But unlike Betty, few customers had heard of him.
Nonetheless, shoppers embraced his whimsical designs. His playful toaster quickly became Target's most popular model -- as well as its most expensive -- and within a year the chain had doubled the number of Graves products to more than 500. Muschamp lauded the products as "pleasingly cheap charm."

Target and Graves were tapping into a rising demand for something more than function or status in mass-market goods -- a trend I called the "aesthetic imperative" in my 2003 book "The Substance of Style." Like a Starbucks interior, a candy-colored iMac or Westin's all-white Heavenly Bed, the Graves line at Target offered customers visual, tactile pleasure, bringing something special to the quotidian.  
It also helped establish Target as the discount chain with good taste. Nowadays Target pushes that brand identity with designer collaborations that generate fashion buzz. (Lilly Pulitzer is coming next month.) Unlike these ephemeral promotions, the Graves line lasted until 2012. And it raised our aesthetic expectations of the everyday.
This column does not necessarily reflect the opinion of Bloomberg View's editorial board or Bloomberg LP, its owners and investors.
To contact the author on this story:
Virginia Postrel at vpostrel@bloomberg.net
To contact the editor on this story:
Zara Kessler at zkessler@bloomberg.net
Before it's here, it's on the Bloomberg Terminal.
LEARN MORE