view
Lobbyists Make Obamacare Bet
Some heavy hitters are registering to lobby on health care.
by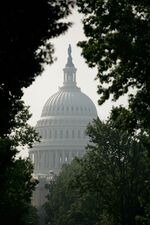 They're back. After a massive recession and years of partisan gridlock depleted their ranks, lobbyists are returning to Capitol Hill. The prospect of changes in health-care law -- something many deemed unlikely -- may be one reason. In the past four months, almost one in five new lobbying registrations listed "health issues" as a legislative interest. If the Supreme Court rules in June against Obamacare subsidies for millions of recipients, it could bring the health care debate roaring back by summer.
When they register, lobbyists provide both broad issue topics and more specific information, such as a bill number, that they intend to focus on. Those registering new contracts citing health care include former Republican National Committee Chairman Haley Barbour; Tracy Spicer, a former senior aide to Senator Ted Kennedy; and at least four former members of Congress, including former Louisiana Representative Billy Tauzin, who previously served as head of PhRMA, the drug lobby's biggest trade group.
Between 2009 and 2014, the number of lobbyists in Washington fell by more than 2,000 to 11,761. Meanwhile, the amount of money spent on lobbying dropped by roughly 10 percent to $3.2 billion, according to the Center for Responsive Politics.
In 2010, lobbyists reported about 65,000 contacts with members of Congress compared with roughly 80,000 interactions with administration agencies, according to data compiled by Bloomberg View and the Center for Responsive Politics. By 2014, lobbyist contacts with Congress had slipped to 50,000 on Capitol Hill and 69,000 with the administration. 
The current uptick may reflect optimism that at least some substantive legislation could move through Congress and reach the president's desk. In his annual address on the business lobby's legislative agenda, Chamber of Commerce President Tom Donohue vowed in January to press for action on trade, infrastructure investment, tax reform and immigration.
"We hope that the new majority in Congress understands that it has something to prove to the voters who elected them," said Donohue, whose organization spent $35 million to help elect the new Senate Republican majority. "They need to legislate. The president needs to engage. Together, they need to govern."
To contact the author on this story:
Jeanne Cummings at
To contact the editor on this story:
Francis Wilkinson at fwilkinson1@bloomberg.net
Before it's here, it's on the Bloomberg Terminal.
LEARN MORE