Euro Debt Is Riskier Than Ever
It's absurd to treat government debt as a risk-free asset for banks. The ECB's QE program provides an opportunity for reform.
by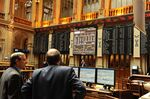 For those not intimately familiar with the world of government bonds, it may come as a surprise to learn that the overseers of financial markets still regard such securities as risk-free. When a bank lends to a company, it must have enough capital on hand to absorb potential losses. When it lends to a country, however, there's no such requirement. Government debt is, in the language of bank regulators, zero risk-weighted, ignoring centuries of history of sovereign defaults.