U.S. Exaggerates Islamic State Casualties
John Kerry says that half of Islamic State's leadership is dead. That'd be news to them.
by and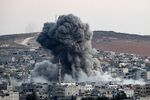 The war against the Islamic State has killed thousands of fighters and even some mid-level battlefield commanders, but the organization's senior leadership and nerve center remain largely untouched, according to U.S. military and intelligence officials.
These officials and other experts tracking the terror group tell us that the Islamic State's Shura and Sharia councils, the advisory bodies that help inform the major decisions of the group's leader Abu Bakr al-Baghdadi, remain intact, notwithstanding one close call in November for Baghdadi. Although airstrikes and military campaigns have killed several regional administrators and designated "governors," the Islamic State has quickly replaced them and maintains its command-and-control capabilities.
This assessment of progress against the Islamic State differs sharply from public statements by top Obama administration officials as recently as last month, including Secretary of State John Kerry and retired General John Allen, the president's special coordinator for the coalition against the Islamic State. In February, Allen said that half the group's leaders in Iraq had been killed.
Speaking at the Munich Security Conference also in February, Kerry expanded that claim to account for the group's leadership in Syria as well.
"We've disrupted their command structure, undermined its propaganda, taken out half of their senior leadership, squeezed its financing, damaged its supply networks, dispersed its personnel, and forced them to think twice before they move in an open convoy," Kerry said.
Kerry and Allen haven't since repeated that claim about the group's senior leadership. U.S. military officials tell us no consensus intelligence estimate supports the claim that half the Islamic State's leadership has been eliminated.
When asked about Kerry's 50 percent claim, Army Captain John J. Moore, a spokesman for U.S. Central Command, told us: "We currently don't have a percentage attached to that statistic."
Experts told us Kerry's estimate is tough to understand, because defining the Islamic State's "leadership" is subjective. Cole Bunzel, a Princeton University scholar of Near Eastern Studies who closely follows Islamic State, said its leadership structure is opaque, and not much is known about the true membership of its Shura and Sharia councils, which play an important role in the organization. When the Islamic State has announced major decisions, such as its decision to expand into Syria or declare itself a caliphate, said Bunzel, it has made clear that one or both of those councils were consulted by Baghdadi.
"I am very skeptical of the claim that the coalition has killed 50 percent of the leadership of the Islamic State, whatever that means," said Bunzel.
He later added, "The Islamic State has publicly announced when senior members of the group have been killed. But they have never talked about anyone in the core leadership being killed since 2010."
Michael Smith, a principal of the counterterrorism consulting group Kronos Advisory LLC, told us there have been some reports of Islamic State officials being killed in airstrikes. The Lebanese journalist and documentary film-maker Ali Hashem reported that in mid-November, Baghdadi was injured in an airstrike on  his convoy.
But Smith said his group, which monitors the Islamic State's official communications and social media accounts, has yet to come upon any acknowledgement that members of the group's Shura Council have been killed. "Jihadi groups typically eulogize slain leaders," he told us.
"If the administration is confident about these claims. It should name names. Because highlighting such kills demonstrates the efficacy of our counter-campaign, and that can deter individuals from joining or supporting the Islamic State. But lying about our achievements plays right into the Islamic State's P.R. game."
This week, Kerry was more cautious. At a Senate hearing Wednesday, he acknowledged that the Islamic State was still picking up supporters and that its savage attacks continue. (Just this week the leaders of the Nigerian terrorist organization, Boko Haram, declared their fealty to Baghdadi.
But Kerry didn't repeat his previous claim about the U.S. killing half the group's leadership or taking back territory it had captured. State Department officials said Kerry's change of tone when talking about the effectiveness of the airstrikes did not signify any change in his confidence that the mission was succeeding. One State Department official told us that Kerry's claim that half the group's leadership had been killed was based on internal State Department deliberations. State Department spokeswoman Jen Psaki told us Kerry's remarks about progress against the Islamic State at Munich and his statement about the same topic this week "are entirely consistent."
Reliable statistics about the deaths of Islamic State leaders are hard to come by in part because different elements of the government disagree on the definition of a "senior leader." For some inside the U.S. intelligence community, senior leadership refers to members of the Shura council and other ministers that have been named for the Islamic State. Other analysts, however, consider regional commanders and local governors also to be senior leaders of the group.
The Islamic State has given these regional leaders much autonomy. But these officials are easily replaced. As one U.S. military official told us: "We've killed the emir of Mosul multiple times, and he has been replaced multiple times."
Another issue with the statistics on senior leadership is that the U.S. is relying heavily on the Iraqi and Kurdish security services for intelligence, including the interrogation of captured Islamic State fighters. "If we are getting a lot of our intelligence from the Iraqis, it's probably inflated," Bunzel said, "We should also remember that the Iraqis said for years that the leader of the Islamic State of Iraq was an actor playing a fictional character. This turned out not to be true."
After six months of war, the U.S. arguably would have made a much bigger and more verifiable dent in the Islamic State's leadership if the Obama administration had been less reluctant to get involved on the ground in Syria. Members of the Syrian opposition and U.S. officials tell us the Free Syrian Army (FSA), the loosely organized group of moderate brigades fighting the Islamic State, has been cut out of the process for selecting targets for U.S. airstrikes in Syria. The FSA's leadership has complained that the U.S. has ignored its offers to share intelligence. Syria is where most of the Islamic State's leaders are based. If the U.S. really wants to kill them, there are a few Syrian rebels who are willing to help.
This column does not necessarily reflect the opinion of Bloomberg View's editorial board or Bloomberg LP, its owners and investors.