Dan Loeb Takes on Japan's Mega-Bot
Can a U.S. hedge fund manager get Japan Inc. to open up?
by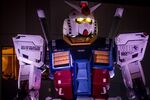 Obsessively secretive Fanuc has a love-hate relationship with hedge-fund manager Dan Loeb. The Japanese robot maker no doubt appreciates the billionaire investor's many compliments, including "reminds us of Apple in its product approach." It just as surely abhors the media spotlight, never mind being told what to do by some loud foreigner -- or gaijin, as the Japanese say.