Colombia Gambles on Peace With Its Rebels
Is this the answer to FARC's violence?
by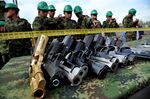 No one has ever accused Juan Manuel Santos of aiming low. The Colombian president already has staked his career on peace talks to end Latin America's longest-running guerrilla insurgency, a chimera that eluded half a dozen leaders before him, almost cost him reelection and split the country nearly in two.