Be Glad About Russia's Nuclear Setback
The problems Russia's nuclear deal with Hungary faces in Brussels could end up changing Moscow's energy policy in Europe for the better.
by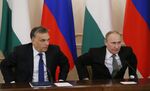 The European Union has apparently blocked a second major Russian energy deal in eastern Europe in less than a year. After ruining the South Stream gas pipeline project by steamrolling over Bulgaria, it is now putting the brakes on Hungary's $13.2 billion contract with Russia to expand a nuclear power plant. But as in the South Stream case, Europe's move in Hungary, despite its political motivations, will actually be good for everyone involved.
The Financial Times reported yesterday that the European Commission has backed the EU nuclear energy agency Euratom -- which must approve all nuclear energy deals in the European Union -- in objecting to a deal Hungary signed with Russia last December. According to the agreement, Russia would build two new 1200-megawatt reactors in the town of Paks. which hosts the power plant that supplies 40 percent of Hungary's electricity.
The Hungarian government has denied that the EU's objection means the Paks II project is blocked, insisting that it's in the process of reworking one of the three contracts that constitute the deal, namely the one dealing with fuel supplies for the plant. European bureaucrats had objected to this document -- which Euratom has seen, but I have not, because the Hungarian parliament voted to make it secret for 30 years -- because it stipulated that only Russian state-owned Rosatom would be permitted to provide nuclear fuel for Paks II.
Europe's energy dependence on Russia is often assumed to stem mostly from state-owned Gazprom's 30 percent share of the European natural gas market. In nuclear power, however, Rosatom has a similar position, supplying about a third of the EU's enriched uranium. It has a monopoly in Finland, Bulgaria, the Czech Republic, Slovakia and Hungary -- a legacy of those countries' close ties with the Soviet Union. That's made the EU bureaucracy uneasy since Russia annexed Crimea a year ago.  The bloc's Energy Security Strategy, adopted in May 2014, declared:
Russia is a key competitor in nuclear fuel production, and offers integrated packages for investments in the whole nuclear chain. Therefore, particular attention should be paid to investments in new nuclear power plants to be built in the EU using non-EU technology, to ensure that these plants are not dependent only on Russia for the supply of the nuclear fuel: the possibility of fuel supply diversification needs to be a condition for any new investment, to be ensured by the Euratom Supply Agency.
Russia, however, has tried to push on with its customary exclusive arrangements. Not that it has needed to do much arm twisting. Russian President Vladimir Putin's biggest European admirer, Hungarian Prime Minister Viktor Orban, was happy to oblige when Moscow offered a 30-year loan of 10 billion euros to fund the 12.5 billion euro Paks II project. Bulgaria's support for South Stream, which envisaged a Gazprom monopoly on gas supplies for the pipeline, was based on similar logic: The poor nation hardly had to invest anything, just allow Russia to expand its influence.
There may have been some old-fashioned corruption involved, too. A company owned by Putin friend Gennady Timchenko, in partnership with a Bulgarian oligarch, initially won the pipeline construction contract without a tender. (It was later replaced by a Gazprom subsidiary after the first arrangement became too controversial, but there was still no competitive bidding.) In Hungary, too, there weren't any tenders for the construction of the Paks II project.
In Bulgaria, Prime Minister Plamen Oresharski's stubborn insistence on having South Stream built cost him his job. The next cabinet scuppered the project, forcing Gazprom to divert the pipeline to Turkey. (From there, Russian gas will head to the Balkans through a new pipeline system that provides for more competition.)
Orban, for his part, won't allow himself to fall because of Europe's opposition to Paks II. Both the Hungarian leader and the Russian government may act defiant, but they are not so dumb as to bang on the EU's locked door. (Besides, Orban knows the plan to expand the power plant is unpopular in Hungary -- not so much because of the Russian involvement but because Hungarians are wary of nuclear power as such.) Russia and Hungary seem prepared to acquiesce and allow their contract to be amended to allow for other fuel providers.
The Japanese-U.S. company Westinghouse might be among them. It has been particularly active in trying to muscle into eastern European markets, lobbying hard for the diversification of enriched uranium supplies. The U.S. government has been backing Westinghouse's expansion with cheap loans from the U.S. Export-Import Bank, just as Russia does with Rosatom. Earlier this month, there were reports in Hungary that Westinghouse may get the opportunity to supply the Russian-built Paks plant.
In that context, it would be easy to think of Europe's interventions in Bulgaria and Hungary as geopolitical gambits stoked by fears of Russian expansionism. Perhaps that's how the politicians involved look at them, too. But just as the Russian pipeline to Turkey ultimately makes more economic sense than South Stream did, so may a new kind of standard Rosatom nuclear deal.
The average cost of one fuel reload for a 1000-megawatt power plant is $40 million, based on an 18-month reloading cycle. That would put total sales for Paks II suppliers at about $64 million a year. That's a lot of money, but Rosatom uranium enrichment subsidiary TVEL, with 17 percent of the global market, records about $4 billion annually in sales. It can afford to share the Hungarian market with others.
Most of the costs of the Paks II expansion will come in the form of construction and engineering, and while the EU could object to the absence of competitive bidding, it hasn't done that yet. That means the deal will still be lucrative for Rosatom. It will also still boost Russia's presence in Hungary and allow Orban and his allies to take advantage of whatever terms made it necessary to classify the agreements for 30 years.
Judging from Hungarian officials' certainty that the Paks II deal will go through, Moscow clearly seems prepared to be less insistent on exclusivity. That would be good news for the EU, which has been trying to secure its markets against Kremlin blackmail, but also for Russia itself. If Russia is willing to be more flexible about the infrastructure it develops in eastern Europe, it could breathe new life into shelved plans to build more nuclear capacity in Bulgaria and the Czech Republic.
This column does not necessarily reflect the opinion of Bloomberg View's editorial board or Bloomberg LP, its owners and investors.