Editorial Board
The EU and Whose Army?
To the extent that an EU army would have any meaning, it would divert troops and equipment from NATO -- an alliance that's much more likely to take action.
by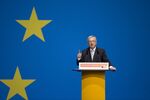 Jean-Claude Juncker, the president of the European Commission, has correctly identified a serious problem: Europe's military and diplomatic ineptitude, most prominently on display in its weak and disorganized response to the crisis in Ukraine. Unfortunately, his proposed solution -- an EU military force -- is unworkable, impolitic and unwise.