Letter Won't Change Iran's Game Plan
If Iran's self-interest is pushing it toward a nuclear agreement, why would a letter from 47 Republicans alter the outcome?
by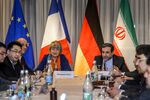 I wrote last week about the unreasonableness of the Obama administration's position that members of Congress are somehow straying beyond their proper bounds when they make it harder for the president to negotiate whatever deal with Iran he thinks best. A letter from 47 Republican lawmakers, warning that the president doesn't have the power he claims, a document first reported on by Bloomberg View's Josh Rogin, was a silly stunt. But its silliness doesn't alter the underlying constitutional or historical analysis. The president is still mistaken.