Republicans' Everyone-Wins Tax Plan
Expect big, unfunded tax cuts if Republicans win in 2016. That's what they do.
by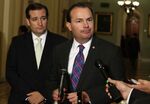 What will Republicans do about tax cuts if they win the White House and retain Senate and House majorities? Think of a big number. Then a bigger one. And keep going.