Best State for Business? Yes, California
California-based companies surpass competitors in other states by most measures of performance favored by investors.
by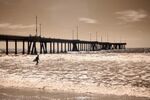 There are plenty of reasons to presume that California must be a bad place to do business. The Tax Foundation says the state's tax structure is the third worst for business in the U.S. Forbes ranks California's business costs fifth highest among the 50 states and its regulatory environment the eighth most burdensome.