Turbulence Ahead as U.S. Flies Solo
The U.S. jobs report Friday confirmed the divergence in prospects for economic performance and monetary policy -- in the U.S. and across countries. This has consequences for prices in the bond, equity and foreign-exchange markets.
by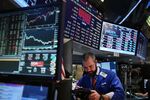 It is tempting to come up with complicated reasons for the unusual and outsize moves in financial markets in recent days, including a sharp appreciation of the dollar, large volatility in stocks and precipitous drops in European government bond yields.