Oklahoma's Right to Expel Frat Boys
Public school students do have First Amendment rights. That doesn't mean Sigma Alpha Epsilon can discriminate.
by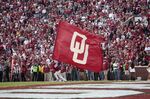 University of Oklahoma President David Boren has expelled two members of the Sigma Alpha Epsilon fraternity on his campus for leading a horrifying racist chant. Does his decision violate their First Amendment rights? And if it does, what's wrong with this picture, in which a public university wouldn't be able to sanction students who not only bar blacks from their organization, but also refer to lynching in the process?