Janet Yellen? Janet Who?
A large majority of Americans -- 70 percent -- have no idea who Fed chief Janet Yellen is.
by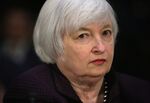 This week, the NBC/Wall Street Journal poll on presidential contenders for 2016 came out. It was the usual sort of thing: Favorable versus unfavorable ratings for the candidates: Democrats like Hillary; Republicans like Jeb (but not as much as Dems like Hillary); no one likes Chris Christie or Donald Trump.