Darrelle Revis Puts NFL on Notice
Darrelle Revis has signed a blockbuster deal to return to the New York Jets. It's impossible to overstate just how big a win this is.
by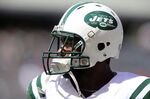 Darrelle Revis is returning to the New York Jets, signing a blockbuster deal that's as anomalous as it is historic.
Revis inked a five-year, $70 million contract Tuesday that includes $39 million guaranteed. The deal is front-loaded, with Revis averaging $16 million annually in the first three years. With the new contract, the best cornerback in football now becomes the highest-paid one in history.
It's impossible to overstate just how big this deal is in light of the National Football League's current labor climate. Many observers are rightfully marveling at Revis's ability to fully capitalize on his leverage, touting the contract as a grade-A advertisement for his agents. 
NFL players don't have nearly the same level of negotiating leverage as their Major League Baseball counterparts, but Revis hasn't been shy about using one of the few tools at his disposal: the holdout threat. And as Deadspin's Barry Petchesky noted, Revis's brief move to New England -- taking a pay cut to win a championship with the Patriots -- proved "invaluable" to his branding.
One needn't look far to see how rare such a deal is. Ndamukong Suh just signed a six-year, $114 million deal with the Miami Dolphins, but the chances of him seeing the final years and the $54 million of unguaranteed money in that contract are slim, says the Washington Post's Barry Svrluga. Albert Haynesworth netted just $41 million and two years of his seven-year, $100 million deal with the Washington Redskins, and Super Bowl almost-hero Marshawn Lynch is guaranteed just $12 million next year as part of his three-year, $31 million extension.
The biggest caveat that comes with NFL contracts is the enormous injury risk, which leaves a player completely vulnerable to the team's power to cut him with little penalty. Back-loaded deals allow teams to avoid paying high salaries to aging players. Smart agents can negotiate high signing bonuses to ensure that their clients at least receive a healthy portion of their high-priced deals. (At the same time, agents' reputations benefit from media reports that overinflate the practical value of player contracts.)
This is all the result of a string of wins by the owners in the past few rounds of collective-bargaining negotiations. The relative weakness of the NFL Players Association was on full display when the last CBA was signed in 2011, a 10-year deal that ripped off rookies and veterans alike. With team revenues higher than ever, rookie contracts have been slashed and their signing bonuses have remained stagnant. Moreover, rookies must stay locked into their near-minimum deals for three years.
"The money saved on the rookies was supposed to trickle down to the veterans, but instead it appears it's simply going straight into the owners' pockets," said the Boston Globe's Ben Volin. The availability of cheaper rookies has effectively priced out many veteran players who are deemed "too expensive" because they command higher minimum salaries.
The result has been widespread wage suppression in football, which might seem odd for the U.S.'s most popular sport. The average NFL salary is $2 million a year, which puts the league at the bottom among the continent's major sports (NBA, $4.9 million; MLB, $3.82 million; NHL, $2.58 million). The NFL's minimum salary of $420,000 is also the lowest of the four.
It's important to celebrate Darrelle Revis negotiating as much of his fair market value as possible while still recognizing his contract for the outlier it is. It could provide a blueprint for agents and players engaging in future negotiations. And some hope other NFL players might actually be able to achieve deals that are worthy of them.
This column does not necessarily reflect the opinion of Bloomberg View's editorial board or Bloomberg LP, its owners and investors.