Obama's Wake-Up Call to Venezuela's Neighbors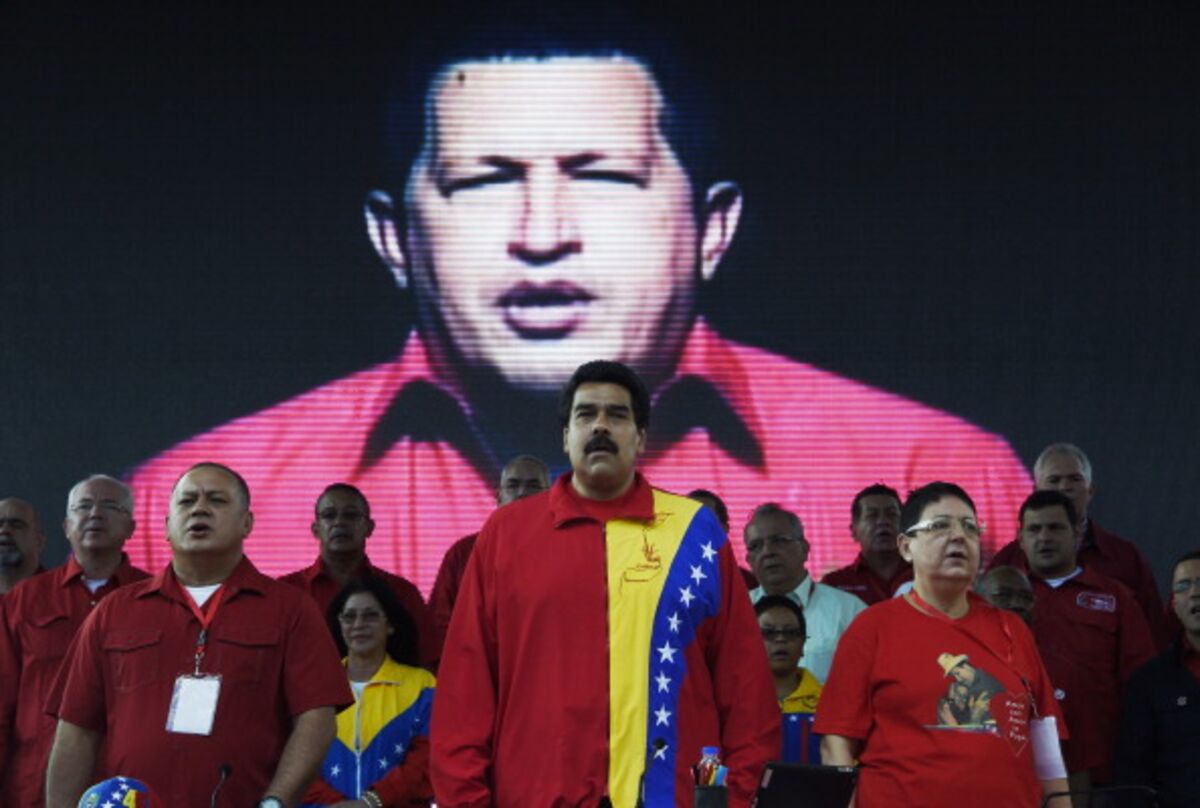 Photographer: Juan Barreto/AFP/Getty Images
The White House's executive order on Monday authorizing sanctions on Venezuelan officials names only seven people. Its real target may be Venezuela's neighbors, whose tacit acceptance of the Bolivarian Republic's bad behavior undermines U.S. efforts to change it.
No one can accuse the U.S. of acting hastily. Even as Venezuelan President Nicolas Maduro cracked down on anti-government protesters and opposition members last year, U.S. President Barack Obama let other Latin American nations take the lead in trying to ease tensions, with nugatory results. Only in July, as Congress considered sanctions legislation, did the State Department restrict travel to the U.S. by Venezuelan officials it deemed complicit in human-rights abuses. In February, it expanded that list to 56. Monday's executive order comes three months after Congress passed a law calling for sanctions, and goes beyond it by also taking aim at those involved in corruption.
QuickTake The Price of Venezuela's Revolution
Predictably, Maduro has responded to escalating U.S. pressure by blaming it for the shortages and inflation that have made Venezuela the world's most miserable economy. Sputtering about an "endless coup," he ordered the U.S. Embassy to cut its staff in Caracas to 17 from 100 and imposed a visa requirement on U.S. citizens.
But the U.S. has pointedly not sanctioned either Venezuela's economy or its citizenry. It has frozen or blocked the U.S. assets of a handful of officials, barred them from the U.S., and forbade any U.S. citizen from doing business with them.
That can still have a powerful pariah effect, however, and it establishes a legal framework allowing the Treasury Department to add more names to the list. Moreover, in not targeting those at the top of the bureaucratic hierarchy, the sanctions put midlevel operational personnel -- the kind more likely to jet off to Miami than be greeted with red carpets in Moscow and Beijing -- on notice that they're vulnerable.
In that respect, the administration's decision to sanction not just security officials but also a leading prosecutor of opposition politicians is noteworthy. Venezuela's judiciary has been perverted into an instrument of political repression, utterly devoid of independence. Its members, too, should be held to account.
Critics of U.S. sanctions argue that they just feed Maduro's conspiratorial narrative. Yet the U.S. is only asserting control over what happens within its borders. Moreover, it's acting only after Venezuela repeatedly brushed off internal mediation efforts by its neighbors.
Venezuela is supposed to hold parliamentary elections this year, but it has imprisoned scores of opposition members under trumped-up charges. Press outlets have been muzzled, shut down or bought up by mystery owners in league with the government. Corruption has made overnight millionaires of members of Venezuela's military, even as top officials have been implicated in narcotrafficking.
It should all make for some interesting debate at next month's Summit of the Americas, where human rights and democracy will be important themes. Maduro will, of course, rail about Yanqui oppression. It will be up to his South American counterparts, more so than any U.S. representatives, to make the case that the harm caused by these sanctions is nothing compared with what Maduro is doing to his own people.
To contact the senior editor responsible for Bloomberg View's editorials: David Shipley at davidshipley@bloomberg.net.