Hillary's E-Mails May Cost Taxpayers Millions
Mike Pompeo, a member of the House special committee on Benghazi, said the new effort will involve "hundreds and hundreds of man hours."
by and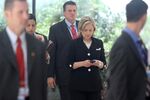 The State Department is beginning to sort through more than 55,000 pages of e-mails from Hillary Clinton's tenure as secretary that she handed over late last year, sticking taxpayers with additional costs that could reach into the millions. It's an additional burden for her former department and another aspect of an e-mail fiasco her political opponents plan to highlight.