Alabama's Gay-Marriage Standoff Deserves a Ruling
Federal Judge Callie Granade can either stall or press the issue with Alabama's intransigent courts.
by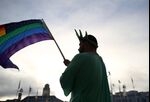 Does the ever-deepening public conflict between state and federal courts in Alabama serve or hinder the cause of gay marriage nationally? This difficult question faces federal District Judge Callie Granade, who must now choose the next move in her legal chess match with the Alabama Supreme Court. Her answer will affect more than the gay couples who want to marry in Alabama between now and when the U.S. Supreme Court decides the issue in late June. It may affect the nature of the Constitution itself.