Soccer's Header Problem
Major League Soccer has at least one thing in common with North America's most popular leagues: questionable concussion protocol.
by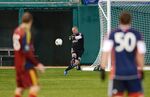 The Major League Soccer season has begun, and while the league has struggled to establish itself among North America's sports elite, it has at least one thing in common with the continent's most popular leagues: questionable concussion protocol.
During Sunday's match between New York City FC and Orlando City SC, NYCFC goalkeeper Josh Saunders suffered a brutal blow to the head when he slammed into the goal post after making a jumping save. His head was bloodied, but he remained in the game after trainers rushed onto the field to check on him. Saunders said after the game that the medical staff followed concussion protocol.
The problem is that protocol might not be particularly effective. Questions about the adequacy of sideline concussion tests arose on sports' biggest stage last month when New England Patriots receiver Julian Edelman remained in the Super Bowl despite being visibly shaken up from a hit. In professional soccer, the issue is compounded by MLS substitution rules that cap the number of times teams can replace players at three per game.
When a player suffers a hit like Saunders did, trainers may rush onto the field, but teams have mere moments to decide whether to remove him from the action. Most medical experts agree that's simply not enough time to administer a proper concussion test. The Standardized Assessment of Concussion, for example, takes five to seven minutes.
Saunders stressed that procedure was followed and maintains that he was "fine," insisting that he would have asked to come out if he weren't. But that's not a decision that should be up to a player whose cognitive function might be impaired. "You're not going to take a goalkeeper out of a match like that unless he's begging to come out," NYCFC coach Jason Kreis said after the game. That's an unfair burden to place on an athlete, especially when sports culture embraces ignoring serious injury as a marker of toughness. As Yahoo Sports' Eric Adelson put it, "Brain injuries often don't allow for clarity of thought."
The entire sports world is working toward improving the flawed system of diagnosing concussions during games, but MLS can certainly help its own cause by revising its substitution rules. Many are in favor of exceptions to the limit in cases of potential concussions, which would allow players to be removed and adequately assessed without penalty to the team.
MLS has also partnered with a concussion software manufacturer, adopting wearable technology that tracks impacts on players and compiles concussion data. But the accuracy and usefulness of such data has been challenged, with the National Football League suspending its own pilot program, which uses helmet sensors to track head injuries.
Concussion procedures are far from perfect. As we saw with Saunders and Edelman, it's not enough to say protocol was followed and leave it at that. With all that we know about the devastating effects of unchecked brain trauma, we must continue to question the efficacy of such tests and ensure that an athlete is not responsible for his own diagnosis.
This column does not necessarily reflect the opinion of Bloomberg View's editorial board or Bloomberg LP, its owners and investors.