Editorial Board
Give Consumers Credit Where It's Due
New York Attorney General Eric Schneiderman got three credit scorers to adopt major changes that should improve consumers' credit scores and, not incidentally, their lives.
by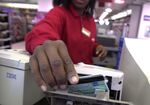 Three of the most powerful forces in the U.S. economy have just agreed to be more careful. They go by the names Equifax, Experian and TransUnion, and they collect billions of bits of data about U.S. consumers. 
The three companies dominate the market for credit reports, which generate the information used to compute a consumer's credit score -- the single number used by banks and other lenders to judge an applicant's creditworthiness. Employers, insurers and landlords also rely on credit scores to judge an individual's trustworthiness. 
At the same time, complaints about inaccurate credit reports and unresponsive credit agencies are legion. One in five consumers have an error in at least one of their credit reports, the Federal Trade Commission found in 2013. Both consumers and regulators have had difficulty getting credit bureaus to change their practices, which often rely heavily on automation to gather information and overseas call centers to handle complaints. 
So it is something of a victory that New York Attorney General Eric Schneiderman got the three credit scorers to adopt two major changes that should improve consumers' credit scores and, not incidentally, their lives. 
The first concerns late medical-bill payments. It's common for hospital and doctor bills to get caught in an insurance-company gauntlet, sometimes for more than a year and without the consumer's knowledge. So the companies have agreed to postpone for six months the inclusion of any unpaid medical bills in a credit score. And once the payment is cleared up, the credit companies will erase any record of the late payment, rather than leave it on the credit report for the customary period of seven years. 
This one change -- together with a similar agreement reached last year with FICO, which uses the information from the credit bureaus to compute a credit score -- could affect more than 40 million Americans with overdue health-care bills. 
The second change focuses on how the credit bureaus handle customer complaints: They have agreed to better train employees to respond to consumer complaints about mistakes. 
It is slightly puzzling, to say the least, that an industry built on data wouldn't act on its own to make its reports as accurate as possible. Be that as it may, Schneiderman deserves recognition for negotiating the agreement and making it apply nationwide, although the three-year implementation period seems overly generous. If the U.S. is going to rely so heavily on credit agencies and the credit score their data generates, it's in everyone's interest that they get it right.
--Editors: Paula Dwyer, Michael Newman.
To contact the senior editor responsible for Bloomberg View's editorials: David Shipley at davidshipley@bloomberg.net.
Before it's here, it's on the Bloomberg Terminal.
LEARN MORE