view
Want a Job? Be a Bartender, Waiter or Consultant
February's payroll employment numbers show big gains in consulting, serving food and drinks, some recovery on Wall Street.
by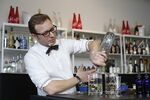 The U.S. economy has been adding a lot of jobs lately. But what kind of jobs?
QuickTake Monthly U.S. Jobs Report
I've been digging around in the payroll employment numbers again, and the first thing I noticed is that most of the sectors that saw big gains in February's payroll report aren't exactly high-end. Food services and drinking places (average hourly earnings: $12.70) added 58,700 jobs in the month, seasonally adjusted; retail trade ($17.33) added 32,000; couriers and messagers ($18.92) 12,300.
Health care and social assistance, which added 32,800 jobs, pays a bit better -- $25.31 an hour, or just over the national average for private, nonfarm employers. But one category really stood out. Professional and technical services, with average hourly earnings of $38.26, added 31,800 jobs. It's been growing like this for years. Here's the performance of the sector, broken down into its five constituent parts, since the jobs recovery began in early 2010:

The legal profession is in a long, slow decline. Computer systems design (often called information-technology consulting) and management consulting are booming. I'm not sure if this is because corporations are reinventing themselves with the help of consultants, or just outsourcing work to consultants to keep head count down. In any case, adjust your career plans accordingly. Also, don't yell at me because the chart doesn't go to zero. 1
Since you're reading Bloomberg View, though, there's a reasonable chance that you've already made career plans in finance. How's that been going? According to the jobs trajectory since 2005, not great. But not necessarily horribly either:

Nondepository credit intermediation includes employers such as credit-card issuers, consumer lenders and mortgage brokers. Many of them were hammered by the financial crisis and haven't really come back. For example, there were just under half as many people working for mortgage and nonmortgage loan brokers in January 2015 as in January 2006. Employment in real estate credit (that is, outside of banks and savings institutions) is down 40 percent during that period. (February numbers aren't available yet for nondepository credit intermediation, which is why the green line on the chart doesn't go quite as far as the others.)
I take this as evidence that the shadow banking system hasn't really made a full comeback, at least in real estate finance. The other side of the shadow system, though, was Wall Street. And the securities industry has actually held up remarkably well, with brokerage firms shedding jobs but fund managers and financial advisers making up for those losses. The securities industry also remains the most remunerative of the five financial sectors, with average hourly earnings of $48.09. It's just not all that big, employment-wise, compared with banking, insurance and real estate.
Finally, a historical saga. The February gains in food-services employment inspired me to take a long-term look at America's changing food habits. It turns out that while employment at food and beverage stores has been pretty much unchanged since 1990, employment at restaurants and bars has almost doubled. Must be all those hard-working consultants ordering takeout.

To contact the author on this story:
Justin Fox at justinfox@bloomberg.net
To contact the editor on this story:
James Greiff at jgreiff@bloomberg.net
Before it's here, it's on the Bloomberg Terminal.
LEARN MORE