Christmas Comes Early for America's Cooks
The International Home and Housewares Show is like Disneyland for cooks -- if your feet can stand it.
by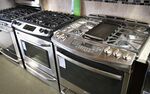 The world of electronics aficionados has been waiting for it with bated breath, and finally, it's here, a major release that has been years in the making. It's not the first company to do it, but it may be the best, thanks to its obsessive-compulsive focus on the tiniest details of the user experience. People who have been waiting for this show all year are finally getting the opportunity to fondle the product they've been asking for.