Why Venezuela's Neighbors Keep Quiet
If Maduro's critics think he's wrong, why don't they say something?
by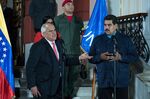 For anyone following Venezuela's slow-motion crackup, U.S. President Barack Obama's announcement of targeted sanctions is proof that what's bad can always get worse. Citing the "unusual and extraordinary threat to the national security and foreign policy of the United States posed by the situation in Venezuela," the White House declared a "National Emergency" and blocked the U.S. "property and interests in property" of several higher-ups in the so-called Bolivarian Republic for alleged acts of corruption, violence, human rights violations or to "undermine democracy."
The targeting of Venezuelan officials stands in blunt contrast to the tiptoe diplomacy that the rest of Latin America has always deployed in its dealings with the rogue Andean neighbor. Take the March 6 emergency meeting of foreign ministers in Caracas by the Union of South American Nations.
The ministers' mission -- to "depolarize Venezuela," according to Ernesto Samper, secretary general of Unasur -- was a noble one. But don't hold your breath. The daylong parley's most proactive contribution: the creation of a regional network to improve food distribution to Venezuelan consumers.
Unasur called an emergency meeting a year ago in an attempt to build a bridge between the Palacio Miraflores and the opposition. The truce didn't last, and now Maduro has answered renewed protests with the Bolivarian boot and sometimes deadly force.
Some Latin leaders have publicly cooled to Maduro's belief there is a yanqui cabal in every shadow, which may be one reason the Caracas parley was convened without the usual Bolivarian fanfare.
"They are speaking of foreign interference," Uruguay's vice president Raul Sendic told his country's lawmakers recently. "We do not have the elements to go along with that affirmation."
Despite those doubts, anyone looking for a bold Latin reprimand to Chavismo truculence against its critics -- including serial jailing of opposition leaders -- may be in for a letdown.
That's because behind the Unasur summit are a couple of cherished conceits. The first is that Latin American problems are Latin Americans' business, and the second, that sovereignty trumps human rights. Both tropes conspire to keep the outcome of such consorts like most continental diplomatic initiatives: isolated and anodyne.
Consider the regional context. Unasur is one of a handful of compacts in the Americas created to forge regional identity free from the footprint of the U.S.
But the code of silence among Venezuela's neighbors also speaks to less obvious concerns. Brazil is the regional wheelhouse, with nearly half of Latin America's GDP and the ambitions of a global power broker. It also is among the most diffident governments when it comes to calling out a brutish neighbor or denouncing human rights abuses. Put another way, as former foreign minister Celso Amorim once told me, "We don't give certificates of good behavior."
True, the economic crisis next door has been a bonanza for Brazil, which has big-ticket construction contracts in Venezuela and a $6 billion trade surplus. That's a powerful argument for circumspection. But imported goods and capital also are a lifeline for cash-strapped Venezuela, which means Brasilia could easily speak up without fear of losing a good thing.
Brazil's quietism may be part of an unwritten contract. "By toning down criticism of its neighbors, Brazil strengthened its hand as a regional power," Amherst College political scientist Javier Corrales told me. "It's the idea that the rise of Brazil won't threaten other emerging countries."
That suggests Latin America's silence over Venezuela's dismal human rights record is not so much bought as consented. This may sound strange. Uruguay's Jose Mujica spent 13 years in a dictator's dungeon, and Brazilian President Dilma Rousseff was tortured by the military. Chilean President Michelle Bachelet lost her father to generalissimo Augusto Pinochet's dirty war. Still, few heads of state have been willing to speak out against their club-footed peers, whether in Cuba, Ecuador or Venezuela.
Corrales calls this "incumbency bias," sitting leaders' automatic defense of their peers, even those that go rogue, for fear of becoming targets of international scorn themselves. "That makes Latin leaders more interested in defending incumbents than in defending democracy," he says.
Then there's legacy bias. While the Latin American Cold War ended a generation ago, ideology can still make pulses race. "Latin America took a left turn starting with the election of Hugo Chavez," Alejandro Velasco, a historian at New York University, told me. "To break the silence over Venezuela would be a tremendous loss to a powerful regional narrative of the new left in power."
And in contrast with today's baritone blast from the hegemon to the north, the silence by Venezuela's neighbors is salsa to Bolivarian ears.
This column does not necessarily reflect the opinion of Bloomberg View's editorial board or Bloomberg LP, its owners and investors.
To contact the author on this story:
Mac Margolis at mmargolis14@bloomberg.net
To contact the editor on this story:
James Gibney at jgibney5@bloomberg.net
Before it's here, it's on the Bloomberg Terminal.
LEARN MORE