Let China Make a Soft Landing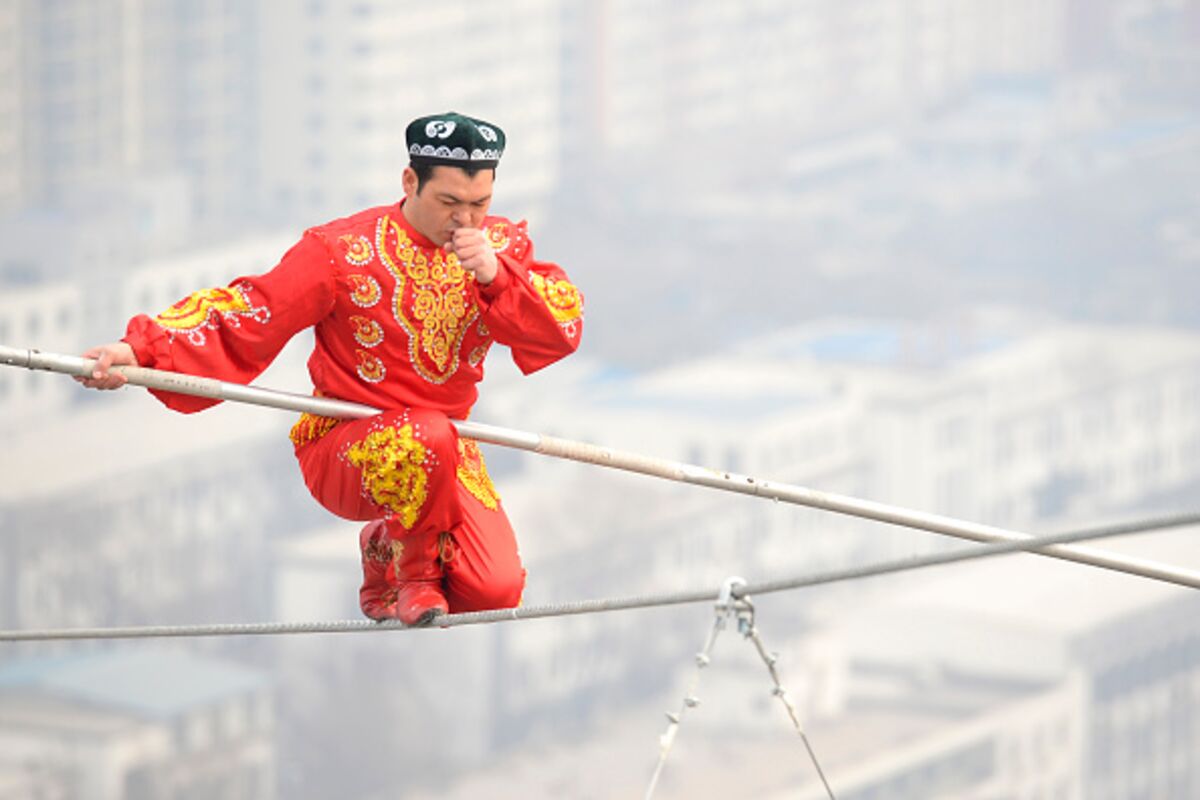 Source: ChinaFotoPress via Getty Images
China's second interest-rate cut in three months has raised fears that the government is trying to devalue the yuan to give its exports an unfair boost -- an understandable suspicion, given Beijing's history of manipulating its currency. This time, though, lower interest rates and a moderately weaker yuan make sense not just for China but for the rest of the world as well. 
The currency has been drifting lower. At the end of February, with the yuan straining against the floor of its trading band, the central bank dropped its daily reference rate to the lowest level since November. (The currency is allowed to trade within two percentage points of that number.)
Last year the yuan fell more than 3 percent against the dollar. Bear in mind, though, that other currencies -- notably the yen -- have fallen much faster. On an inflation-adjusted trade-weighted basis, the yuan is still up more than 6 percent.
A moderate further easing of the yuan wouldn't be unwelcome. Chinese exports are flagging -- down 3.3 percent year-on-year in January. Meanwhile, deflationary pressures are rising, which argues for cautious monetary easing. Chinese leaders, to their credit, are struggling to rein in the vast shadow-banking sector and murky local-government financing vehicles: Cutting interest rates is a better way to loosen monetary conditions than easing those constraints.
Traditional exchange-rate manipulation involves resisting upward market pressure on the currency to maximize exports -- precisely what China did for many years as its economy grew into a manufacturing juggernaut. In this case, Chinese leaders are right to say they're merely accepting downward pressure on the currency due to a monetary easing that's justified on its own terms. If Japan can weaken the yen through its far bigger quantitative-easing program, it's hard to argue against China's right to do the same.
China is well aware of the risks. An abrupt devaluation would inflame critics in the U.S. Congress, who are already pushing to include provisions against currency manipulation in the Trans-Pacific Partnership and other trade deals. The boost to exports would be short-lived if Japan and other rivals retaliated by driving down their currencies even further.
Chinese companies, too, owe more dollar-denominated debt than is commonly realized -- about $1.1 trillion, according to the Bank for International Settlements. China remains a net lender, with more than $3.8 trillion in reserves, but no one knows how many of its companies (in particular, highly leveraged property developers) could default if the yuan plummets.
The threat of an uncontrolled currency depreciation could also spur capital flight. China registered a $91 billion capital-account deficit in the fourth quarter of 2014 -- the third in a row and the largest ever. The prospect of a big devaluation would accelerate the outflow, undermining the banks and adding to the risk of defaults, and could become a self-fulfilling prophecy. It's a danger China's government needs no added incentive to contain.
Chinese leaders, again to their credit, seem resigned to slower growth: This week they announced a new target of "about 7 percent," the lowest in 15 years. The rest of the world no less than China needs this soft landing to be smoothly accomplished. For now, that means cautious monetary easing and tolerance of the exchange-rate consequences.
To contact the senior editor responsible for Bloomberg View's editorials: David Shipley at davidshipley@bloomberg.net.