Ukraine Gives a Pass to Thugs
Four of ex-President Viktor Yanukovych's close allies have been taken off the European sanctions list because Ukraine has failed to pursue them.
by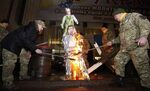 One of the most urgent demands made during Ukraine's "revolution of dignity" last year was that the leading figures of deposed President Viktor Yanukovych's regime be brought to justice for plunder. But so far almost all of them, including Yanukovych himself, have gotten off scot free, because the new government is not pursuing them. And now, frustrated at the lack of evidence gathered against the old leaders, the European Union is beginning to lift its sanctions on them.
The EU sanctioned Yanukovych and 21 of his allies a year ago, at the new government's request. Today, it removed four of them from its sanctions list and gave Ukraine three months to come up with credible evidence against three others. The government in Kiev does have its hands full: Its economy is collapsing, and the truce in the country's east remains unstable. Yet by neglecting to hunt the former officials, Ukraine is failing to seek closure. And it's giving Yanukovych and his cronies reason to raise their heads in hopes of vindication.
Last June, when pro-Yanukovych legislator Mikhail Chechetov criticized Prime Minister Arseniy Yatsenyuk for letting the currency's exchange rate slip, Yatsenyuk had a withering retort: "I know a way to raise the exchange rate to 8 hryvnias per dollar. Bring back your President Yanukovych and repay into the budget the $15 billion he stole!"
Chechetov recently killed himself, stepping from the window of his 17th-floor apartment after being charged with abuse of power. His mistake was not to flee with the rest of the old regime a year ago. Yanukovych and most other top officials in his government now live in quiet luxury in Russia. After a year's silence, former Prime Minister Nikolai Azarov recently resumed posting on Facebook, and this week offered a eulogy for Chechetov: "Ukraine has been turned into a land of the absurd, of lawlessness, of terror," he wrote. "I am deeply convinced his murderers will be severely punished."
Last fall, Azarov bought a large plot of land near Moscow, next to a parcel acquired by his son Oleksiy, a former Ukrainian legislator. I remember Oleksiy Azarov's election campaign in 2012: Government officials ran it openly, and, just before the vote, sent major funding to his constituency -- the town of Slavyansk, later a hot spot in the war. Ukrainian authorities have failed to charge the younger Azarov with any wrongdoing, and he is one of the four no longer subject to EU sanctions.
The lack of charges against the other three now cleared by the EU is even harder to understand. They are Andriy Portnov, Yanukovych's deputy head of staff responsible for reforming law enforcement; Igor Kalinin, Yanukovych's security aide; and Oleksandr Yakymenko, who headed Ukraine's domestic intelligence agency. They are highly likely to have been involved in attempts to put down the rebellion in Kiev that eventually toppled Yanukovych. If Yakymenko was not involved in the February 2014 shooting of protesters and innocent bystanders, now known as the "Heavenly Hundred," he did nothing to fulfill his direct responsibility to prevent it. 
Those deaths have not been properly investigated. "I want to ask the current authorities why they haven't finished an investigation into the deaths of the 'Heavenly Hundred,'" Yanukovych, now the owner of a mansion near Moscow, taunted in an interview with a Russian weekly late last year. "Are they scared to reveal the truth about what happened?"
The other four who may escape sanctions in June include Yanukovych's younger son Viktor Jr., former Justice Minister Olga Lukash, former Education Minister Dmytro Tabachnik and Serhiy Klyuyev, the brother of Yanukovych's former chief of staff. Charges of corruption against Klyuyev, in particular, would have been easy to raise: He was the nominal owner of the ex-president's vast Mezhyhirya residence near Kiev, illegally privatized during Yanukovych's rule and now nationalized.
Klyuyev is now a member of the Ukrainian parliament. "He goes to sessions as if nothing happened," his fellow legislator Serhiy Leschenko wrote on Facebook last month. For any investigation to be pursued, the parliament would have to lift Klyuyev's immunity.
It's not even clear which of Yanukovych's cronies are under investigation. In January, Ukraine asked Interpol to put out alerts for Yanukovych, Nikolai Azarov and former Finance Minister Yuriy Kolobov. The latter was apprehended this week in Valencia, Spain -- the only arrest of a high-profile Yanukovych ally since the revolution. 
Yanukovych and Azarov are highly unlikely ever to be taken into custody. Also safe in Russia is Yanukovych's former tax chief, Oleksandr Klimenko, who recently opened a Facebook account to criticize the Kiev government and suggest policy changes.
Ukraine's not doing enough to bring to justice the people who for years had their hands in the treasury. Big open trials, complete with surprise revelations, could show Ukrainians they are now living in a different country -- if indeed they are. The current president and prime minister are members of the old political establishment, too. If the military conflict in the east can be settled somehow, Ukraine could easily revert to old corrupt practices -- though its people, empowered by last year's revolution, may not tolerate that for long.
This column does not necessarily reflect the opinion of Bloomberg View's editorial board or Bloomberg LP, its owners and investors.
To contact the author on this story:
Leonid Bershidsky at lbershidsky@bloomberg.net
To contact the editor on this story:
Mary Duenwald at mduenwald@bloomberg.net
Before it's here, it's on the Bloomberg Terminal.
LEARN MORE