Friday Food Post: An Easier Way to Brown Meat
Fit for a snow day: the (ahem) burning topic of whether you need to brown your meat.
by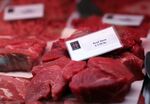 Spring ought to have sprung by now. We should all be out planning our gardens and thinking fondly ahead to fresh herbs and pasta salads. Instead, those of us on the East Coast are still inside, staring bitterly at the snow and making stew.