view
Can Lindsey Graham Win the White House?
The countless ifs and maybes on the South Carolina senator's road to the Republican nomination.
by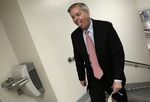 Could Lindsey Graham have a rational plan for winning the presidency?
He isn't going to get there by capturing the Republican nomination in 2016. Scott Conroy,  at Real Clear Politics, tries to sketch out a scenario:  a respectable loss in Iowa, then a surge in New Hampshire, followed by a Graham win in his own South Carolina. But Conroy admits that's far-fetched. I agree: Republicans have a strong field of candidates, and they aren't going to be flailing about (as they sort of did in 1996, 2008 and 2012) for someone at least minimally acceptable to them.
That's why today's column by Charlie Cook (at the National Journal) doesn't even mention Graham. Carly Fiorina and Ben Carson are name-checked, but not a sitting three-term U.S. senator who is basically on board with conservative orthodoxy.
And yet …
It's not so hard to imagine Graham, who will turn 60 in July, setting himself up for a serious future run.
The obvious way is that he could win at Veepstakes. He certainly has foreign policy experience, and several of the leading candidates have none. That doesn't mean the presidential nominee would necessarily use the second slot to beef up the ticket's national security credentials (Mitt Romney didn't), but it's a possibility. There is some evidence that a presidential run, even if it's a complete failure, makes a VP selection more likely (Joe Biden!). After all, Lloyd Bentsen, Walter Mondale and Dick Cheney all were tapped despite past flame-outs, the latter two didn't even make it to Iowa.  1
The other possibility is that Graham could repeat Senator John McCain's template: surge in New Hampshire, and then elsewhere, after all the serious threats to the front-runner have ended. The idea is that if Jon Huntsman could scrape together a respectable third-place finish, then perhaps Graham could do a bit better, especially if Scott Walker or Jeb Bush has already moved into a dominant position and ended the chances of any of the viable alternatives.
If either of those possibilities pan out and Republicans lose in 2016, Graham would be among the handful of viable candidates for 2020 -- and it's certainly possible at that point that Republicans would produce another weak field that year that would be perfect for him.
Granted, that's a lot of ifs and maybes. There's no guarantee that Graham will inherit the McCain (or Huntsman) vote in New Hampshire. There's obviously no guarantee that a Republican nominee would turn to Graham for the second slot. Even if all of that works, Graham still wouldn't be trusted by many important party groups going into 2020 (or 2024, if that's the next open nomination).
I'd add that running and losing a presidential campaign has been known to cause troubles back home. So if lightning doesn't strike and Graham isn't a 2020 presidential front-runner, he may find re-election (or more likely re-nomination) to the Senate more difficult when he's up that year.
Still, I've been dismissive of Graham's campaign, so it's only fair to point out that there is at least some potential point to it. Just not much of one.
To contact the author on this story:
Jonathan Bernstein at jbernstein62@bloomberg.net
To contact the editor on this story:
Max Berley at mberley@bloomberg.net
Before it's here, it's on the Bloomberg Terminal.
LEARN MORE